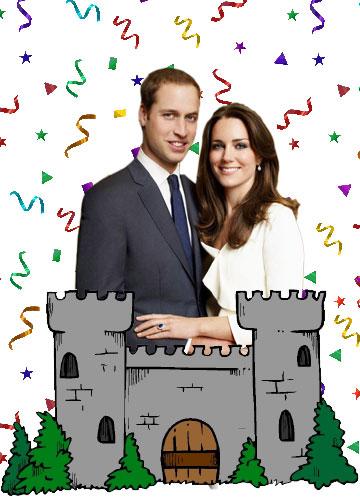 Whether it's a 6th birthday party for a little princess you know and love or a fun and glitzy wedding anniversary bash, everyone loves a royalty party. Who wouldn't want to be king or queen — or prince or princess — for a day?
With the upcoming nuptials (April 29, 2011) of Prince William and his lucky, gorgeous princess-to-be, Kate Middleton, there's never been a better time to plan a royalty-styled party. We're finding a huge surge in popularity for princess and royalty parties lately, so be the first in your neighborhood to get in on this fun party idea trend.
This idea works for any age group and for a variety of special occasions. We've given royalty party themes and tips below for children, teens and adults, as well as basics for any regal soiree. A plus: this is one party theme you'll love putting together as much as your guests will love attending! Let's get started.

Events That Deserve Royal Recognition
A royalty party theme has so many possibilities. Here are our favorite occasions to hold a royalty bash for someone close to you.
a birthday
a Sweet 16
Quinceanera (a Spanish/Latin celebration for a girl's 15th birthday)
to celebrate Kate and William's wedding (of course) — as a pre-party or on the actual date (April 29, 2011)
your wedding anniversary
a "big 3-0" or "big 4-0" party
a "You're the king! (or queen)" party (a thank-you for the special person in your life who goes the extra mile)
a royal sendoff (for a person leaving the workplace, moving to a new neighborhood, etc.)
a Halloween dress-up princess party
a royalty-only Halloween ball (for adults)
Decorating Your Castle and Inviting the Royal Guests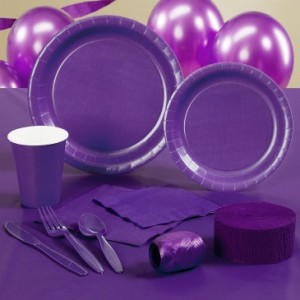 Okay, so your dining or rec room may not be Westminster Abbey (the site, of course, for William and Kate's big day), but it is your own special castle. Make it look the part with a few simple basics. Try these ideas:
Royal Colors
Show your blue blood with a regal color scheme. Purple and deep, plush blue are the traditional colors of royalty. So is gold, with its obvious association with wealth. Make use of gold-tone accents with glittering confetti or table centerpieces. Also use gold colors when creating the party invitations. Check out a couple party sites for your supplies:
For a young child's princess party, add pink to the purple, and put a little lavender in there, too. These three colors are by far a little princess's favorites. Faux jewels glued to the party invitations and to streamers are a nice touch that will make the party area look extra special.
For a teen or adult party, focus more on the lush end of the spectrum with deep, rich colors, velvet/velveteen, and a more subtle, sumptuous decoration scheme (see below for details). You can still get away with faux jewels on centerpieces, the invitation and other decorations, but choose a more realistic variety in emerald, ruby and diamond colors. Faux pearls make great accents, too.
Setting a Queenly Table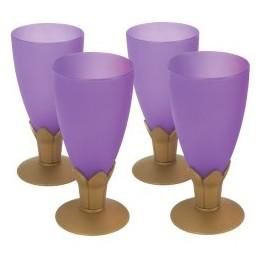 Don't bring out your best china (unless it's a small party for adults only with a sit-down dinner). Do make choices that are easy to clean up, including disposable options, and that won't break your heart if they break to pieces.
For very young guests, choose plastic or paper. Don't worry; you can still pull together something stunning. (We'll include choices below.) For adults, don't use "real" dishware unless it's a sit-down dinner or a more sophisticated atmosphere — for instance, a wedding anniversary celebration.
Example: we love these goblets. They can double as take-home favors, too. Think along these lines for a stress-free party that has that regal touch.

Royalty Party for Children
Little girls absolutely love a royalty theme party. We've had subscribers tell us they even had princess parties for their little one's first birthday. (And yes, they've all been adorable — the parties and the little princesses.)
The age group we'll be discussing here is preschool through grade school, the typical age to hold a royalty party. For the younger end of this spectrum, boys will like to be King for a Day. After that, boys don't usually ask for a King or Prince party for themselves but are delighted to go and get "crowned" for the day at a classmate's big bash.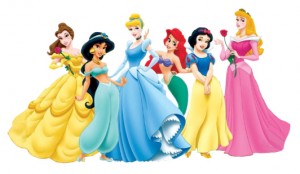 Pink and purple are real princess colors. As mentioned previously, lavender is also a huge hit. Add gold and you've got yourself a party color scheme!
For this age group and type of party, there's no such thing as going overboard, so hang pink and lavender streamers from the ceiling and tie it onto the backs of chairs in big bows; fill colorful balloons with helium and let them float around the ceiling; and toss a great, big, sparkly centerpiece on the foods table. A little colored confetti tossed on tables is a great effect, too.
A Disney princess party is sure to delight. Try one of the "modern favorites" like Tangled (based on Rapunzel) or The Princess and the Frog; both are huge right now among this age group. Add green to the pink, lavender and gold for your Princess and the Frog party.
When sending the invitations, put a teaspoon or so of glitter into the envelope to sprinkle out enchantingly when the guests open their invites. Be sure to note on the invitation that guests should come in costume if you're planning a dress-up party. You can also have tiaras and wands available for guests to put on as they enter, and perhaps some fabulous faux jewelry.
Another great idea is a princess tea party; check out our article for instructions on how to put this fun, fantasy party together for your little one.

Royalty Party for Tweens or Teens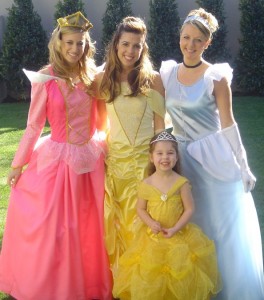 Image courtesy of
Pink Parties
Everyone knows that teens are cool (grin) and absolutely won't go for a "little kid"-type princess party. But you'd be surprised how many teens we know of are planning a get-together to celebrate the wedding of Prince William and Kate Middleton. It seems the royal affair has brought the "cool" back into royalty parties for this age group.
Try something fun and funky like a medieval party. Teens may morph this into goth, but that's okay: if they're brave enough to play dress-up, go with it! Name the guest of honor Queen for a Day and have her make silly requests, like having two male guests hug each other. This will really break the ice and get everyone into the party mood.
Play music, of course. Ask your teen what music she'd like. Don't assume (please don't…no matter how cool a mom you are). Some teens will want a dance party; some will feel awkward about it. Ask your teen which she'd like, and if she does want dancing, be sure to empty out one room so the guests can really move around.
If the party will be after Kate and William's wedding, Tivo the event and show it during the party. Get the tissues ready! This is a notoriously emotional age group. Afterward, sit everyone down (if you can) for some good eats. Don't try to stick with a royal theme for the food in this case; guests won't be impressed with finger sandwiches or a Renaissance Faire-style turkey leg. Instead, get a laugh by putting pizza, chips and other grabbable favorite foods for teens (chicken fingers and jalapeno poppers, for instance) on faux "royalty" dishes. Look for silver-looking disposable dishes or for plastic versions of fancy platters. The guests will love it.

Royalty Party for Adults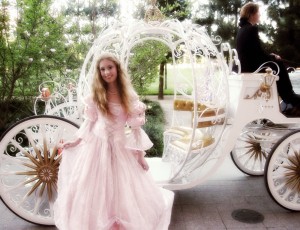 Okay, maybe don't make your royal ball this elaborate! Awesome pic by
The Cinderella Company
As with a teen royal party, we suggest a William and Kate or general royal backdrop here. Have the wedding itself playing during the party. If it's a before-the-fact get together, of course, this won't be an option. Instead, watch for mini-documentaries about the royal couple (these crop up periodically on various cable channels) and have one or two of these prepared for a showing instead.
Consider hosting the party as a "royal ball." Make sure guests know well in advance that it will be a true dress-up affair. Decorate the party area in velvet ribbons and bows. Pick up some William and Kate souvineers
like mugs, cutouts and dolls. For a sit-down dinner royalty party, decorate the backs of chairs with large velvet bows as well, and pick up this theme with a tasteful centerpiece (for example, a clear crystal vase tied with a bow and filled with seasonal flowers).
For an adult royalty party, serve foods one thinks of at a royal affair. Set out pretty platters of cherry tomatoes, grapes and crisp apples; serve soft cheese with rye or multigrain bread; create delicate finger sandwiches (these are easy to do — simply fill with the desired items, cut all four sides of the crust off, and slice each sandwich into either thirds or quarters).
There's so much you can do with this idea. Be creative and add your own personal touches to the party. And remember to treat your guests like royalty as they arrive. This party is sure to impress.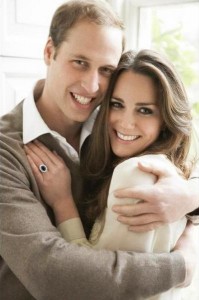 Awwwww …