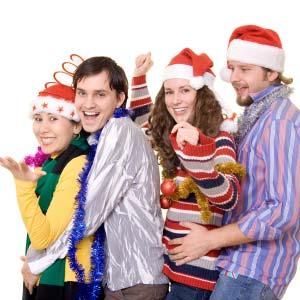 As the weather turns frostier, your thoughts are guaranteed to turn to celebrations, family and good friends. Everyone loves a great Christmas party, so be Santa this year by gathering a special group of family members or coworkers for the party of the season.
Office Party
If your place of business allows it, consider an office Christmas party. This needn't be a fancy cocktail party if you're worried finances won't allow for it (though this can be fun too!) Any gathering the day before your office closes for the holidays is perfect and will get everyone in the holiday mood.
Send out flyers or an e-mail a head of time to advise employees of the whens and wheres. Ask for each guest to bring a dish. Keep things organized by sending around a list of foods and drinks, then having each individual check off one item. This way you will avoid duplications of one food and a total lack of another.
Don't forget to decorate. If your office has a faux tree in the supply closet, great! Pull it out and deck the halls. You'll be surprised how far a little decorating goes toward making everyone and everything its merriest.
A Party at Home
For friends and family, hold a close-knit down home Christmas party. Again, decorations are key. Make your home look festive with simple touches like garland, cut-out decorations and joyful centerpieces. (Click the links below for all the decorating ideas and themes you'll need this holiday season.)
If you love to cook, baking is traditional at this time of year, so have plenty of cookies on hand. (Get kids in on the fun by having a "cookie decorating night" a few days before the big event.) If you have a specialty—such as fudge or caramel popcorn—be sure to make it. Or learn a new cooking skill for the season, such as yule log ("buche de noel"), a rolled and decorated French cake.
Have fun with your party planning—and have a great holiday! Read the articles below to choose your Christmas party theme: