Psst... while you're here why not download the Ultimate Guide To Kids Party Success from our friends at Lock Paper Scissors. It's written by parents to be jam-packed full of the best party tips on the planet: Signup below to download: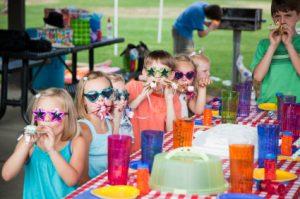 View all kid's birthday party ideas
It's party time! Every kid loves a great party — and a great party often starts with a one-of-a-kind theme. If your child has a favorite sport, cartoon or movie character, take that idea and create your party around it.
If your toddler loves Elmo, have Sesame Street decorations and order a cake to match (or make your own). If your 10-year-old loves to sit and giggle with her friends, consider a makeup party or movie theme party.
The Guest List
Unless you have the room and finances, you'll want to keep the guest list down to a reasonable number. Older children tend to have fewer invitees; for instance, a 12-year-old may want a simple sleepover theme party with two or three friends.
For the younger crowd, five to eight children is usually a manageable amount, ensuring everyone has fun and there's not too much going on at once. One rule of thumb is to invite the number of kids per your child's age.
There's hundreds of kid-pleasing ideas, with themes and supplies to match. Check out are big party list below for ideas, food, decor, games and activities for a specific theme below: