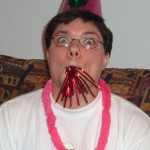 Thank you for visiting Themeaparty.com. We love to hear your comments and feedback, though we certainly encourage them directly by contributing a comment on any article!

Chris Molnar is a work-at-home graphic web designer who shovels coal in the dank basement to keep his computer warm. He sometimes arises from his crypt to entertain his wife and two children. Every so often, he will throw parties for them. Though he loves decorating and building party props, he still can't blow up a balloon!* You can email him at chris@themeaparty.com.

*His 4 year old daughter just taught him how a couple weeks ago

.