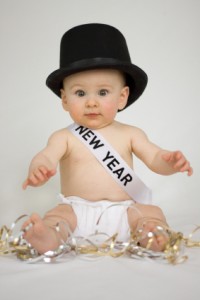 What does the phrase "New Year's Eve" mean to you? If you said, "A party!" you're not alone. The last day of the calendar year has always been cause for celebration. What's your party style? From mild to wild, we have all the info you'll need to get things hopping.
Having a Ball
Move the furniture out of your living room or off your patio (for warm-weather areas) and host a masqued ball this New Year's Eve. Send formal style invitations that specify fancy dress; hand out masks to guests as they enter. Intersperse formal ball dance-style music with something more current to get the party going. (Hint: a "dress-up" ball is just as much fun, and costumes and accessories can be very economical!)
At the stroke of midnight, the masks come off and get tossed into the air to greet the coming year. You can also place tiny confetti bits into balloons and have them filled with helium; at the final hour, pop them for a spray of confetti at the height of the celebration.
If you're planning on serving alcohol, consider a small party with sleep-over accommodations, or ask guests to have one designated driver.
Host a New Year's Dinner
Organize a dinner and have party games afterward to while away the hours until midnight. This doesn't mean you can't still get fancy if you wish; in fact, being the hostess of a dinner party is the perfect excuse to get out that party dress and really shine.
You'll be surprised how many laughs—and fond memories—come out of intimate gatherings at home, particularly on such a special night.
Including Children in Your Celebration
Can't get a sitter (or don't want to)? You can still have a blast this New Year's Eve. In fact, children can make the evening even more fun. Pick up party horns, hats and noisemakers for a traditional style celebration. Have a sing-off competition among the kids and give each a small prize. If the children are old enough to stay up, have them count down the last 10 seconds with you for a night they'll always remember.
Here's some more ideas to have a fabulous New Year's party: