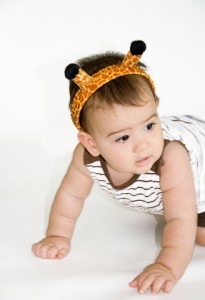 It's a jungle out there—and inside your house too, when you host an animal theme party! Children love animals, from barnyard cows, sheep and pigs to the more exotic variety. Have a party "on the farm" or have a roaring time in the jungle with monkeys or view lions on safari.
Old MacDonald
Younger children will love a barnyard theme party. Inexpensive straw hats in place of traditional mylar party caps lend charm to your theme. Have "farm" veggies, like ears of corn, green beans and peas (the parents will appreciate this touch), and serve lemonade or punch. If hosting your party outdoors, build a scarecrow out of sticks and old clothes.
Wild 'n Crazy
A jungle animal party is appropriate for all ages; think cheetahs, lions, elephants, leopards, and even slithery snakes for this theme. Have your child draw, color and cut out jungle animals from cardboard or paper, or buy ready-made wall and table decorations.
"Spear" snacks jungle-style with kabob sticks (blunt the sharp ends with a nail file after the food is on). Fruit is the perfect food for this serving style. So are pieces of barbecued chicken or even hot dogs!
Buy or make a cake with small plastic novelty animals; your child will love this, and each guest can go home with one of the decorations.
The Real Thing
You may also want to consider having a professional come to your home for a real life petting zoo. Call your local wildlife or zoo association to see whether they know of someone who provides such a service, or look online or in the phone book. At-home petting zoo parties are growing in popularity and are thrilling to children, who get to touch and see up close the animals they've only read about (such as reptiles). You could also see if you can host your party at the zoo!
If any animals have fur/dander, make sure you advise the parents ahead of time in case any of your party guests have an allergy to the particular animal.
Fun and Games
As a finishing touch, have animal-theme games. The children can dress up in animal costume pieces and imitate the wildlife of their choice. Or play Duck, Duck Goose for the smaller set. And of course, play Pin the Tail on the Donkey (or Pin the Banana on the Monkey…or any other idea you'd like!)
Check out the links below for more fabulous animal theme party ideas: