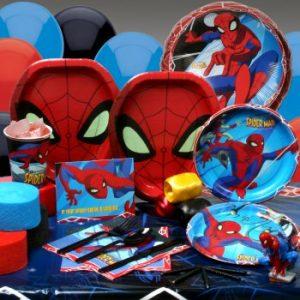 So your youngster wants a superhero party. He's made a great choice – with all the superhero and comic book characters out there, there are a ton of different ways to organize one and make it truly special. Your special hero (or heroine) will likely have a favorite character in mind. Scroll down to view specific superhero themes to help you in your planning.
A Super Party
Superheroes come in all shapes and sizes and both sexes, so both boys and girls will enjoy a superhero party theme. Traditional favorites like Superman, Wonder Woman, Batman and Spiderman and newer updates like the Power Rangers and super-family The Incredibles are all fun possibilities.
You can also mix things up with superhero groups for your child's party theme. Marvel Comics, the Fantastic Four, Stan Lee originals, super machines/half-man, half-droids and others give you more room for flexibility in your planning and decorating.
Power Foods
Refreshments that match the theme will really get your child's guests in the mood. For "radioactive heroes" (Spider-man and The Incredible Hulk, for example), serve a "glowing green" punch made of lemon-lime soda and green or yellow ice cubes (add food coloring to water, stir well, then freeze in trays).
Gummy fish or other gummy ocean creatures are a fun tie-in to underwater comic heroes like Aquaman and Star Wars' Kit Fisto; so are gold fish crackers. Or decorate cupcakes in blue and yellow for Superman and Supergirl or red and black with an icing spider web for Spider-man.
Amazing Gifts
Instead of the tried (and sometimes tired) candy giveaways, stuff goody bags with single-story comic books that match your child's favorite character. Superhero stickers are another best bet, as well as pencils, notepads and erasers of the superhero.
Little Extras
A pinata and table decorations in the party theme are other fun choices. If you have non-collectible comic books your child doesn't need to save, tear out appropriate pages and attach them to the walls in the party room with removable double-sided tape. Or print superhero images off the internet; have guests color each, then hang them up for a display they can all be proud of.
Read on for more tips on a super party for your fab girl or boy!