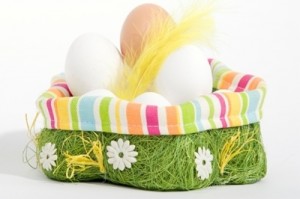 It's springtime…and Easter is right around the corner. You're planning a party but aren't sure where to begin. Don't worry: we have all the resources you'll need to host a party that's blooming with good food and good times.
Having the Party Outdoors
Easter takes place during one of the most beautiful times of year, so take advantage of the warmer weather and blooming beauty with an outdoor party. (If spring weather in your area is unpredictable, have a backup plan with an indoor area already decorated and ready to go.)
For very small children, an Easter egg hunt is a must. It's always best to enclose the treats in a plastic egg or other container, as chocolate is likely to get crushed under excited feet if it's lying on the ground unprotected. Also place small novelty toys or stickers inside the eggs for added fun.
For girls, try an Easter tea party in your back yard or garden. Or for either sex and any age group, have outdoor sports activities available. Don't worry about fanciness here—a Soccer ball, basketball or a few other pieces of sports equipment are all you need to get kids running around and having a wonderful time.
Crafty Fun
An Easter themed craft is a great way to fill up party time and keep kids having a blast. Kids can decorate their own Easter baskets inexpensively using plastic strawberry containers, paper, crayons and glue. Or have them make Easter cookies together, or let them help decorate if they are too young to bake.
The Easter Bunny
If you're the playful type yourself, you may even consider dressing up as the Easter bunny and arriving to dole out treats. Or if you feel some of the littlest guests may be taken aback by a big, furry guest, hang cheerful bunny and egg decorations around the party area.
Send your happy guests home with goody bags that contain small Easter coloring books and crayons. These can have either a "bunny"-type theme or a religious one, depending upon your preference. Get some other great Easter party ideas by clicking on the links below. Get creative—and have fun!