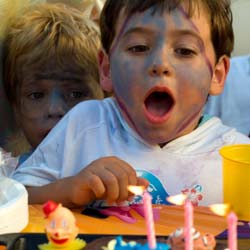 Uh-oh. It's that time of year again. Yes, that's right: the time that you wonder how on earth you're going to top last year's birthday bash for your little guy!
Not to worry – there are loads of ways to make your birthday boy happy, and they're probably much simpler than you thought. Let's take a look at some great ideas for your boy's birthday celebration.
Movie Characters
Your son's favorite movie can be your best jumping-off point for his birthday party. If Toy Story is his favorite, decorate with Buzz Lightyear, Woody, Rex and Bo Peep. Or maybe he's a Star Wars fanatic—try a cake topped with Star Wars figurines and have the movie playing in the background during down time at the party. Batman, Spiderman, Nemo and many other characters are possibilities, too.
Focus on Favorites
Many little boys focus on one interest for a period of time as a normal part of their development. If it's dinosaurs at your house, have a dino-themed party. If pirates have your boy's fancy, let him dress up inexpensively in a pirate outfit and have pirate hats available for each guest.
A Day at the Park
Having a party away from the home is a great option, and it doesn't have to be expensive. If your slugger is into sports, have a baseball party at a park rather than your house so you can save your walls and windows (and your neighbors' siding too!) Volleyball is fun too, but be sure your local park either has a net or allows you to set one up.
Try to avoid very hands-on sports, such as football, for your child's birthday party. Though these can be fun, they also greatly increase the chances of someone getting hurt … something you definitely don't want as the host or hostess.
Let your little boy give his input, but keep things reasonable. Remember, a gaggle of boys together is bound to be fun no matter what. Your planning is just the icing on the cake!
View any theme below to get you started on plans for your boy's birthday party: