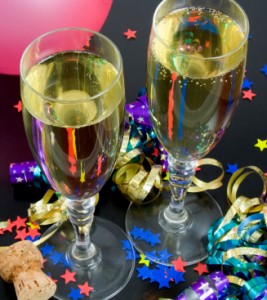 View all holiday themes
Holidays always offer opportunities for parties and celebrations, whether it be Christmas, Halloween, St. Patrick's Day or celebrating our country's birthday with fireworks.
So are the changing seasons – think of a backyard barbecue for summertime luau or a springtime garden or tea party. You can have a party for any occasion (and there's more than one website that gives you a "reason to party" every day!)
You can make any date into a great reason for a get-together with family, friends and co-workers – however, planning it often includes an overwhelming array of items to take care of. To make things easier and more organized, try having a theme for your holiday party this year!
A Seasonal Theme
Having a theme in mind makes everything fall into place easier. Whether it's Easter or Talk Like a Pirate Day, your theme will give you a jumping-off point for every element of your party planning. This includes the invitations, decorating scheme and even the amount of people you'll be inviting. (For instance, Christmas parties are usually larger, family-based affairs; a seasonal birthday party, however, can mean just a few guests.)
Having a theme will often mean being able to purchase matching items in one place – one of the big problems I've found is running from store to store trying to find all the supplies. With a pre-created theme, a single click of the mouse button will solve all this running around.
Fabulous Food
With a theme in mind, you can better match the party food. For instance, if you have thought of using gingerbread for your Christmas party theme, you have a cookie or gingerbread house bake-off with a few close friends beforehand.
Springtime celebrations call for light, fresh foods. Finger sandwiches, fresh veggies and fresh-baked breads are great choices.
For summer, think picnics. Salads, fresh fruits, sub sandwiches/hoagies, burgers, hot dogs and sausages are all favorite picks.
For autumn, maple sugar candies, pumpkin-spiced desserts and soups will be not-to-be missed treats among your guests.
The food, the decor, matching invites and all these other special touches will really make your party sparkle, and planning will be much easier.
Here are more ideas to help you throw a stellar holiday party: