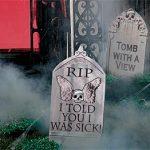 It's no trick to treat your favorite ghosts and goblins to a Halloween party that'll rock the ghouls! With a little creativity and some tried-and-true party ideas (and a few brand new ones), this year's Halloween party will be the best ever!
Costumes: From Cute to Creepy
Start off with a great costume. For young kids, go low-key on the gore … you don't want to scare your guests away before they even get to the punch and goodies! Older children and adults can wear any type of costume that strikes their fancy. You don't have to be crafty with makeup to create the perfect look; try an easy-to-use Halloween makeup kit with instructions on how to put your best (and spookiest) face forward.
Halloween Party Decorations
Of course, when it cokes to the scariest day of the year, it's all about the props. Choose decorations that fit your theme. If you're having a movie monster party, hang images of werewolves, Dracula and Frankenstein. An old-fashioned Halloween party should be filled with witches, ghosts and a full moon (paper is fine for this) hanging over the party table. Or try a free-for-all with a little of everything that makes Halloween night so wonderful.
Be sure to carve a pumpkin or two and have it sitting on the front porch or steps to greet your guests. For safety, try battery-operated "candles" inside your pumpkins.
Have some mood music in the background; try a Halloween party CD to really get things hopping.
Freaky Foods
Candy is a must at any Halloween party. Also try making your own ghoulish creations, such as lady fingers (decorate cookies with a slice of almond for the fingernail and a little red icing along the "finger"), creepy cupcakes (sprinkle crumbled cookies over chocolate icing and garnish with gummy worms) and a green-colored, lemon-lime soda "alien punch."
Don't stop there—there's a grab bag full of ideas for a perfect Halloween party that's just your style! Browse the articles below for fresh, fun and freaky party themes!