Have a TV or Movie Theme Party!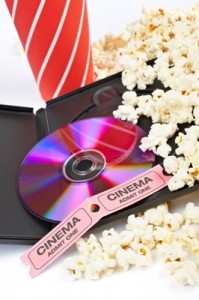 Big movie or season finale coming up? Host a Hollywood-tastic party to watch it. Or do you have a birthday kid (big or little) who loves a character from TV or the movies? go all out with a theme party! These parties are easy and fun to organize, because you'll usually be able to find all the supplies you need to host it. Let's begin planning!
Spiderman Invites You!
If you're planning a tv or movie event, create invitations that look like movie theater tickets, with "Admit One" printed across the top of each and the party information below. For movie characters, print out an image or drawing and paste them on your invites.
For a child's birthday, you will likely have them watch a movie as part of the party. In this case, you may wish to keep things on the smaller side in order to be able to accommodate rambunctious "theatergoers". (This is especially true if your movie or TV party is doubling as a sleepover.) A grown-up party can usually include a few more individuals, but make sure you're not squeezing people into your living room or onto your patio. You want your guests to be comfortable.
Go Big By Renting a Movie Theater!
Most local theaters offer birthday party and movie packages, complete with a party room for you and your guests. Visit your local venue to inquire about birthday party packages. Most theaters will have a host or hostess to help you out, and you will likely have a reserved section of seats to watch the movie. Be aware of minimum guests, age groups, and when you should make the reservations (usually a few weeks in advance.) You may also need to bring your own birthday cake and supplies. Cost is usually based per child.
Home Theater
Turn the party area into a theater by setting up chairs or comfortable pillows for your guests to sit on. If you'll be serving snacks during the show, put an old blanket down first to protect your rug or flooring. This way guests can enjoy without worrying about making a mess (and you can relax too).
Decorate with movie posters or other Hollywood-type displays on the walls. Serve (what else?) popcorn during the show. Bite-size candies and hot dogs are another movie snack favorite. For added effect, flicker or dim the lights just before the "showing" and ask that all guests be seated.
Make Your Own Movie
Kids will love making a movie show or "TV pilot" of their own. Have inexpensive costume pieces available and let your creative geniuses come up with their own storyline. Afterward, download the movie and share it with the guests' parents. This is sure to become a keepsake.
Look for more great TV or movie party theme ideas below: