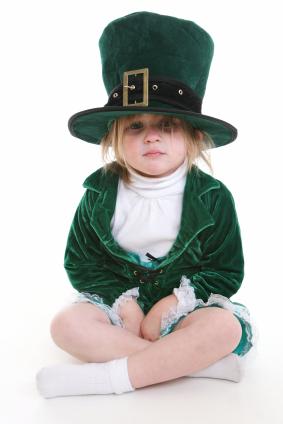 Planning a St. Patrick's Day party? It's is all about being green, of course, so start there with your party planning. Green shamrocks (clover), green clothing and green decorations will liven up the party area and get everyone in a St. Paddy mood.
You can also serve green foods (tint cakes and cookies before baking by adding a little green food coloring) and green drinks.
Your Lucky Day
This holiday is also about myth and magic. Decorate with a pot of gold wall decoration or centerpiece (situate a tiny leprechaun so he's peeking out from behind it). Gold items, such as golden harps, are other magical and playful symbols of the day.
Getting Your Irish On
Wear green, or better yet, try an old-fashioned Irish countryman or countrywoman costume. Men can carry a shillelagh (walking stick) or sport a novelty pipe for added effect. For women, try a full skirt and long curly wig (red is the obvious choice, but true Irish sport all hair colors, so take your pick).
Food and Drink
Okay, we have to say it: if you're planning on serving alcohol, make sure your guests have backup plans for getting home.
That said, Irish food and drink can be wonderful and, depending upon the recipe you find, easy to prepare. You may be surprised to learn that corned beef and cabbage was made popular in North America, not Ireland, but it's a great choice if you're hosting a sit-down dinner at your party. You can also try soda bread, apple mash, shepherd's pie, and of course, a little nip of whiskey, Irish coffee or imported beer such as Guinness.
Also have assorted novelty chocolates or other candies available for snacking.
Don't stop there—you have plenty of ideas to choose from below: