The Princess and the Frog Party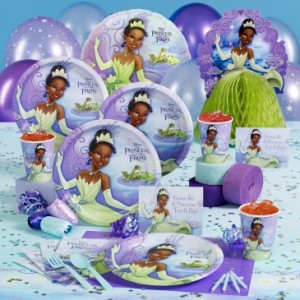 The Princess and the Frog party pack
Make some magic for your little one's birthday this year – hold a Princess and the Frog party! The Disney instant classic staring Princess Tiana, leaps into your living room with these party ideas including food, decorations and games. If your party is close to Mardi Gras, so much the better! What are you waiting for? Hop to it!
Princess Party Décor
"Princess" colors – mint green, lavender, lime green, lemon yellow and light blue – fit The Princess and the Frog like a hand in a royal glove.
Choose balloons, streamers/crepe paper and a pretty party tablecloth that coordinate with this color scheme.
All things princess-ey highlight your Princess and the Frog party, so think tiaras (perhaps as your centerpiece along with flounces of pastel-colored ribbon), magic wands and flowy fabrics to tack along the sides of the table. Don't go too crazy on expense here – a plastic Princess and the Frog tablecloth with flounced bits of pastel-colored fabrics tacked along the edges is perfect.
If your guest of honor also loves the movie due to its setting (Jazz-age New Orleans), so much the better. Check out this Jazz party theme meant for Mardi Gras, and incorporate it into your own decor.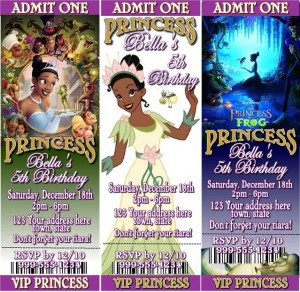 Royal Invitations
The Princess and the Frog is a popular idea for party invitations as it contains plenty of things girls love: a great story, pretty dresses, Disney princesses and a little magic!
If you will be showing the movie at your party, why not create Princess and the Frog movie ticket invites?
You can find these on Ebay, from talented artists who will personalize, print these out and mail them to you.
For a more traditional, royal invitation, let your little one help you create invites by gluing sparkly rhinestones, glitter and small bits of ribbon to the invitations. Choose antiqued-looking paper to print them out on. Sprinkle a little voodoo dust (confetti) in with your invitations; roll up and tie with ribbon to create a fairytale scroll look.
Try some fun princess wording, such as:
Hear ye, hear ye!
Come one, come all to our Princess and the Frog party.
The King and Queen (your and your spouse's names) cordially invite you to attend a party for (your child's name) at the Royal Castle (your address) on (party date and time).
A Taste of New Orleans
In the movie, Tiana dreams of operating a successful restaurant, Tiana's Place. Cajun food may be a bit too spicy for very young guests, but you can tweak a few southern favorites to be lighter on the taste buds. Try these ideas for your Princess and the Frog party table: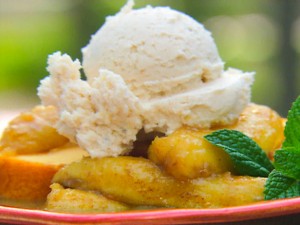 bananas foster (use banana flavoring rather than rum) – this is a particularly great idea if there will be adults at the party (You can use the original recipe, then!)
frog cookies (use a frog-shaped cookie cutter and frost the cookies green)
fried chicken/chicken tenders
corn on the cob with melted butter
anything barbecued (great idea for an outdoor/backyard party locale)
tea and cookies (for a princess-ey feel; a kids' version of tea and scones or "high tea") with finger sandwiches (peanut butter and jelly and other kid-friendly favorites) – see more ideas for a princess tea party
Conjuring Up Some Fun
Dress up time is ESSENTIAL for this party theme. Have plenty of royal costuming – like tiaras, magic wands, flouncy skirts and jewelry – available for guests to mix and match. Take pictures! If you need to buy some costumes, check out Buycostumes.com.
Play Kiss the Frog. This is an interesting take on Pin the Tail on the Donkey. Draw a large frog on construction paper and pin the paper to the wall with removable double-sided tape. Blindfold each guest in turn, put a little lipstick on her lips and have her walk up to the picture and try to kiss the frog in the correct place. As each guest takes her turn, jot down the name next to the lips. The lips closest to the frog's mouth win!
Have a makeup station. Choose kid-friendly, nontoxic, washable makeup and set up a little table with a mirror. Let the guests make one another up for the party.
Play Cross the Moat. Clear a room for this so guests don't get hurt running into the furniture. Cut lily pads out of green construction paper and tape to the floor at intervals. Guests must hop on one foot from one lily pad to the other. The guest who crosses the room fastest – without falling off a lily pad! – wins.
Send guests home with party favors in a pretty princess box or goody bag…and don't forget the thank-you notes from your little princess to her retinue.