Disney Princess Birthday Party Ideas
Every little girl is a princess on her birthday. Make wishes come true at your house this year with a Disney princess birthday party. It's the perfect occasion for fun, food and of course, dress-up! Here's how to turn your house into a royal castle.
Pretty Princesses
Have your youngster dress up as her favorite princess, and on the invitations, encourage guests to do the same. You may want to have a few outfit pieces on hand for children who arrive in standard party garb but want to get in on the fun.
Your child can reign supreme at her party as Cinderella, Belle (Beauty and the Beast), Sleeping Beauty, Ariel, Jasmine or any other Disney heroine she adores.
Don't forget tiaras, magic wands, shoes, jewelry and even nail polish (get a non-toxic, child-geared variety) for extra glamour and sparkle.

The Perfect Tea Party
The food possibilities are almost limitless for a princess party. Make everything easier: have a fairy tale tea party!
Set up a small play table if you have one, or seat the guests around your dining room table. Have a place card at each; this simple, inexpensive choice helps create a fancier atmosphere (giggles and mini food-fights notwithstanding!). Serve juice, water, milk, or flavored iced tea in princess "goblets" or princess-decorated cups of any kind to follow your party theme.
You may wish to serve the cake at this time, particularly if the party will be short (an hour and a half or less). This will save both time and cleanup. Choose Disney princess cake toppers and send each guest home with one topper as part of her goody bag.

Party Activities
They may be dressed up in their queenly best, but underneath it all, girls just want to have fun. Here are a few activities to keep the guests happy.
Shake out some energy with a pinata. Fill the pinata with princess-theme toys and candy.
Play a game of "pin the flag on the castle". Hang a castle style party backdrop on one wall. Cut and color flags and attach double-sided tape to the back of each (have the birthday girl help with this ahead of time). Blindfold guests one at a time and have them try to attach the flag in the correct place.
Play find-your-favorite-princess. Using the steps above in pin-the-flag-on-the-castle, choose a backdrop with Disney princesses. Then cover each guest's eyes and guide her to the wall to try to guess where her favorite princess is. (This is a great choice for very young children, since they have already seen roughly where each princess is during the course of the party.)
Have the guests play Disney princess dressup with dolls, or have them paint one another's fingernails (use non-toxic polish).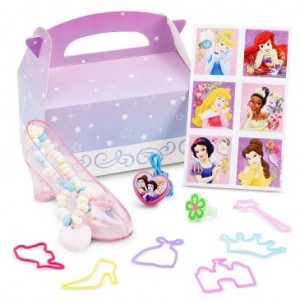 A Royal Sendoff
Don't forget the goody bags! For regal flair, hand out small purses with a few pieces of candy or a small toy in each. Or choose princess-theme goody bags and fill them with trinkets the guests will love. You can also purchase pre-filled packs online.
Don't forget to have your little princess use her manners: have her write thank-you notes to each guest. Preprinted cards are your best, and easiest, choice. This last little step will be a great wrap up to the perfect party.