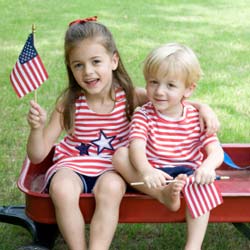 The 4th of July is about celebrating our Independence and having fun in the summertime sun – and a night full of sparkle and fireworks! Plan your party for the actual day or, if it's easier to get people together, try the weekend before. Either way, you'll get the fireworks going with fabulous food and activities.
Things to Do in the Daytime
Daytime activities can include a day at the beach or a barbecue in your very own backyard. If your town has a parade, go celebrate – it will get you in the mood for the party to come. Then invite guests back for your barbecue, complete with "all things American," including hot dogs and burgers on the grill, apple pie, sub sandwiches and chips.
Or plan a deliciously "upscale" July 4th tea party. This novel idea is catching on for a whole array of holidays and can be a wonderful way to spend the afternoon before heading off to your town's fireworks display. Trust us – even Uncle Sam would approve!
Things to Do in the Evening
If you have plenty of space, try various legal firework-style fun, such as sparklers. (Check with your town for local laws on what you can and can not set off your a residential or city area.) If children will be attending the party, make sure you keep safety in mind, but "safe" doesn't mean things can't be fun. Have an early evening firefly hunt, watch the sun set and sip wonderful, frosty drinks in the cool of the evening as your guests nibble at the last of the goodies you've prepared.
Don't forget the music. A warm evening outdoors with music playing in the background is one of the most delightful things about celebrating the 4th – and celebrating summer.
Decorating for the 4th
Red, white and blue is the traditional decoration scheme for Independence Day, but you can venture off the beaten path with any glittery, fun colors you like. Or try an all-white, all-red or other theme to give your party a unique touch.
For more inspired 4th party ideas, check out the links below.