Menu Ideas for a Princess Party
Princess parties call for for a proper menu of sweets fit for future queens.  Depending upon your party theme, different princess party menu items are in order.  Here are two sure-bet menus for princess parties, and some other tips for creating magical princess party menus.
Princess Tea Party Menu
Everyone knows that the most authentic princess party is a tea party.  Tea parties for tots and tweens require a few things, namely petite sweets, tea or hot chocolate and finger sandwiches. Here's what to serve:
Petit fours: small cakes that can be eaten in a bite or two.
Mini cupcakes: if petit fours are hard to find or you don't have time to make them, serve miniature cupcakes, instead.  You can make these in mini-muffin tins.
Finger sandwiches: for little princesses, peanut butter and jelly or cheese on toast are safe choices.  Kids that are a little bit older might enjoy chicken salad, or cucumber and cream cheese (with the crusts cut off, of course).
Beverages: serve tea with milk and honey, hot chocolate, lemonade, chocolate milk and Shirley Temples (sprite with grenadine).
Salty Snacks: cheese straws are a great snack, and fun to serve, too.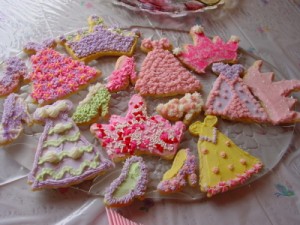 Fairy Princess Party Food
Fairy princesses require light, sparkling, and magical food.  Here's how to feed your fairy princesses so they can stay strong while sprinkling fairy dust.
Fairy punch:  fruit punch, lemonade, or a tasty mix of sprite and sherbet
Fruit kabobs:  make mini kabobs of small pieces of fruit on tooth-picks
Fairy dust cookies: little sugar cookies with colored sugar sprinkles are sweet treats for fairies
Fairy forest: broccoli, cauliflower, carrot sticks and zucchini sticks.
Popcorn and cotton candy are also fun, light, and airy!
Other Princess Party Food Ideas
Besides the menus above, here are a few tips to make ordinary items princess-perfect.
If you make party drinks, add a slice of strawberry or a few raspberries to the punch or lemonade for an extra special touch.
Make Jello stacks with a bit of club soda for some sparkle.
Freeze ice cubes from lemonade or sprite and use them in the party drinks.
Use cookie cutters to cut out the small sandwiches you serve your princesses.   Fun shapes like animals, stars or hearts will turn the ordinary into the extraordinary.
Have fun with your menu planning for your little princesses.  Fun is the best ingredient!