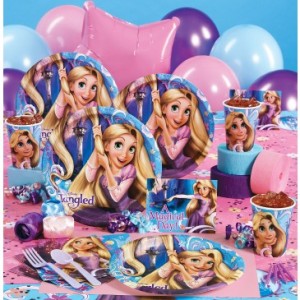 Tangled party supplies, available at
Celebrate Express
Princesses, super-long hair, catchy tunes, cute-bandits-turned-good-guys…what's not to love about Tangled? This Disney Movie is based on the story of Rapunzel, a girl locked in a tower with only her extraordinarily long hair and her dreams.
The beloved Brothers Grimm fairytale has been updated to the new millennium with cool 3D CGI effects and a dose of super-cool humor. No doubt your little princess will be clamoring for a Tangled birthday party this year, so treat her to the party of her dreams with Tangled party supplies, games and fun, fairytale food.
Here's the long and short of how to create the perfect Tangled theme party.
Won't You Come to My Party? Invitations
The excitement begins with Tangled theme birthday party invitations. The fun ideas below are super-easy, inexpensive and are sure to put smiles on the party guests' faces.
VIP Tangled Party Pass: "Premiere" your child's birthday party with VIP back stage pass-style invitations. Free printables are easy to find on the internet, or make your own on any Word type blank document using a font that goes along with a princess/fairy tale style. If you really want to make an impression, laminate the invites and insert a safety pin into each so guests can wear their passes to the party.
Tangled Movie Ticket Invitation: Follow the same guidelines as for the VIP Party Invitation above, but look for templates that mimic a movie ticket. Print "Admit One" on the front and the party information on the back. You can find custom movie invites on Ebay
For added fun, toss few Tangled-theme stickers or a teaspoon of glitter into the envelopes before mailing.
Invite guests to dress up (but have extra pieces available just in case — see Games and Activities below).
Decorations Fit for a Princess
Make sure you add an atmosphere or royalty to the party area. Here are our favorite ideas for your child's Tangled party:
Contrasting with her go-get-'em personality, Disney's Rapunzel wears girly-girl pink and lavender…so be sure to use pretty pastel colors for the party decorations.
Tape together bunches of yellow streamers to imitate flowing hair. Hang these in a variety of places, such as over the party entrance door or to one side of the tablecloth. Heck, if you have a two story house, recreate Rapunzel's castle by having long yellow streamers flowing from a window down to the ground!
Tape together small gray boxes (you can paint or spray paint them if you wish) to create a "tower". Place it in the middle of the treats table or in another conspicuous area.
Choose Tangled party themed cups, plates, napkins and a tablecloth. Sprinkle glitter on top of the tablecloth (remember — when it comes to a princess party, there's no such thing as too much glitter…trust us on this one).
Games and Activities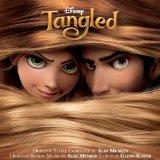 Make sure there's plenty to do at your little princess's soiree!
Set up a hair styling station (of course). Have faux-hair extensions, clips, beads and scrunchees available and let the girls primp one another to their princess best.
Put on a play with either these cute fairytale finger puppets, or brown bag puppets guests can make themselves with glue, glitter, paint, markers, felt and yarn.
Play dress-up with a few cute princess-style costume pieces. Be sure to include crowns, tiaras, faux pearl necklaces and long, pretty dresses.
Play musical chairs to the Tangled soundtrack.
Food Fit for a Princess
Here are some incredible edibles for your party:
Make a donut "tower". Place a circle of donuts on a silver-colored tray that has been covered with aluminum foil. Place layers of donuts, slightly smaller for each layer, one on top of the other. On the very top donut, place four flat, square candies. Add pink and purple sprinkles around the base.
Serve angel hair pasta with butter and Parmesan cheese for blonde "hair".
Have a tea party-style buffet complete with finger sandwiches and dainty cookies and cakes. Serve sweet tea for younger children.
Party Favors
Thank guests for coming to the party with Tangled (or at least girly!) party favors. Kid-friendly lip gloss, stickers, pretty temporary tattoos, hair accessories and faux jewelry are all perfect ideas for send-home gifts.
This fun, new and already very popular idea is the party to have for little girls, so be the first family on your block to show guests a royally good time. And remember to send in pictures of your own fun get-together…we love to hear from you!
Official Disney Tangled Trailer