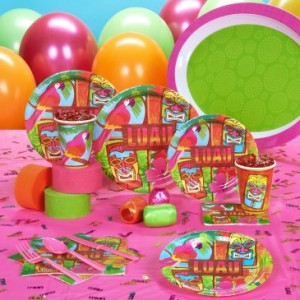 Get your
Tiki Party Supplies
!
Remember tiki parties? Perhaps your parents had these by the poolside, with music, mai tais and funny cat's eye sunglasses. (Okay, so maybe that was just my parents.) Tiki parties were hugely popular in the 50s, 60s and early 70s, riding the wave of an interest in Polynesian culture brought back after World War II.
We're seeing a huge resurgence in tiki luau parties this summer, so hop on board for one wild party!
What is a Tiki?
You've seen them; you just may not have known what they were called.  Tikis are large wooden statues that are human-like, but scarier…and much cooler. Tikis had religious significance to many South Pacific cultures.
In the western world, their grimaces and crouching positions are well-known, popping up perennially in movies, at restaurants and as decor.
They play a starring role in the game Donkey Kong Country Returns and in SpongeBob SquarePants cartoons. If you're a vintage TV fanatic, you may have caught one or two in the Brady Bunch "Hawaii vacation" episodes.
Tikis are a must at any luau party, so we'll be mentioning them quite a bit in this article.

Tiki Parties: The Basics
There are a few iconic themes that tend to run in any luau-style party.
These tend toward the retro (yay — go retro) due to the time frame when these parties first became popular. Here are your basic tiki luau party themes:
fresh fruit, both for eating and a decor
colorful fabrics, especially print fabrics like flowers or batik repeat patterns – pink, orange, ocean blue
ocean everything (decor, invitations, have this party by a pool)
yummy, fruity drinks
island knockoff foods, especially pork, fruits and rice; served appetizer-style with toothpicks
bamboo and raffia
grass skirts, flower leis, flip-flops
Tiki Luau Party Decor
Decorating may just be the most fun part of this party. (At least I think so.) You have so many options and all of them are colorful and filled to the brim with awesomeness. Try these ideas:
Decorate with lots of raffia. That's the material that grass skirts and other Hawaiian style crafts are made out of. You can find lengths of raffia at most crafts stores. This cool grass raffia table skirt makes for very island decor.
Hang paper lanterns (make your own, or buy these) and tons of tiny lights. White mini Christmas lights are perfect and are a smart re-use choice. You can decorate with these two options indoors if you use battery-operated tea light "candles" in the lanterns.
Tropical fruit makes a great tiki party decoration. Pineapples, coconuts, mangoes, etc. are all great choices.
Make fun use of tikis. I love this tiki bubble blower.
If your party is outdoors, buy stand-up torches, either the "safety" (electric battery) kind or the ones you burn. Do NOT use the latter indoors (that's obvious but we're saying it anyway).
How to Dress for the Party
Ladies: Wear a grass skirt over a bikini bottom or over yoga shorts. Wear a big, bright flower in your hair. Put a flower lei around your neck and wear a flower lei style bracelet. Put on a pair of flip flops in fun summer colors and you're good to go.
Men: Wear a big flowered shirt. Or be really brave and get the party going by putting on a grass skirt (over shorts, please!) and a coconut "bra."
Men can and should wear leis, too. Get a few and put them around your neck. You too can wear flip flops. Also wear bands of faux grass around your upper arms, a traditional island look for men.
Luau Party Foods
All right, folks…time to get cookin'! I've been to luaus that had the whole pig roasted and presented, but if the Big Guy is beyond your budget, try these yummy ideas instead.
Serve foods on banana leaves, speared with bamboo skewers. The skewers can be found at almost any large chain grocery store. You'll find banana leaves at Asian and Latin specialty stores. A huge part of Polynesian party foods is the presentation.
Tiki culture is a blend of many islands and many traditions, so don't limit yourself to just one. Try "universally"-known island foods like pineapples, papayas, coconuts, and macadamia nuts. Also sprinkle coconut on main dishes and desserts. Coconut cupcakes are delicious and easy — just bake vanilla cupcakes, frost with chocolate and sprinkle coconut on top.
Polynesian flavor tends toward the very sweet mixed with savory. Serve sweet meatballs, Li'l Smokies sausages with a sweet barbecue dip, grilled ham and fruit kabobs, sweet and sour chicken wings, coconut shrimp,  pulled pork and traditional char siu — now I'm getting hungry! For more sweetness, cut a watermelon in half, hollow it out with a melon baller, then fill with fruit flavored sorbet. Serve the melon balls on the side.
Of course, we couldn't possibly close this category without a drink recipe. Here's one we've had at my house many times — it's the original recipe from Trader Vic's. For children, make a small bowl and leave out the alcohol.
Traditional Mai Tais by Trader Vic's

juice of 1 lime
3/4 oz. orange curacao
2 oz. orgeat syrup
1/4 oz. rock candy syrup
2 oz. golden rum
a dash of grenadine
Pour into a shaker; shake well. Serve in frosty glasses with paper umbrellas, cherries and mint on top.
And of Course…Music, Music, Music
Music adds instant atmosphere to every party, so in our household, we always have tunes spinning. Download MP3s or check out Amazon for island style music choices.
Music provides a fun, upbeat background for party games as well (particularly the limbo). Or challenge guests to Island Karaoke. (Too fun!) Learn a few hula steps from YouTube and teach them to guests, then have a hula contest.
Here are a few beach party classics to spin while you party:
Surfin' Safari: The Beach Boys
Wipeout: Fat Boys and The Beach Boys
Under the Boardwalk: The Drifters
Surf City: Jan 'n Dean
Ride the Wild Surf: Jan 'n Dean
Catch a Wave:  The Beach Boys
Girl Watcher: O'Kaysions
Summer of 42 (Michael LeGrand)
Summer of 69 (Bryan Adams)
Summer in the City (The Lovin' Spoonful)
School's Out (Alice Cooper)
Summertime Blues (Eddie Cochran)
Hot Fun in the Summertime (Sly & the Family Stone)
Summer Breeze (Seals & Krofts)
Summertime Blues (Blue Cheer)
Summertime (Janis Joplin version — so great)
Boys of Summer (Don Henley)
Sunglasses at Night (Corey Hart)
See You in September (The Happenings)
When September Ends (Green Day)
Cruel Summer (Bananarama)
Too Hot (Kool and the Gang)
Hot, Hot, Hot (Buster Poindexter)
The Conga (Gloria Estefan)
Vacation (The Go Gos)
Got a great idea for a tiki luau party? Let us know! We always love to hear from you. Party hearty, aikana (my friend).