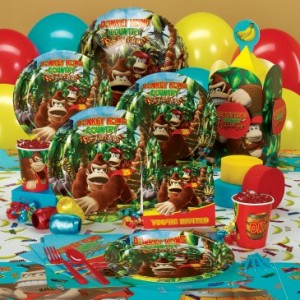 Would you believe that in autumn 2011, Donkey Kong celebrated 30 years since it knocked the video game world on its head and changed the very way we play?
That's right – this Nintendo classic that was once the height of technology goes all the way back to 1981. And it all started with a gorilla, two carpenters (nope…they weren't originally plumbers), a few barrels and one very pixelated princess. Looking to host your own awesome Donkey Kong party? Feel free to monkey around with our decor, food and game ideas below.
DK's 30th birthday got a lot of media coverage this summer, and with the ongoing popularity of related games like Mario Galaxy, Mario Kart, Donkey Kong Country Returns and more, kids seem to be clamoring for a Donkey Kong birthday party this year more than ever before.
Occasions For a Donkey Kong Party
A Donkey Kong party is the perfect theme for:
a child's birthday. So much fun for all age groups.
an arcade/video game party. Include lots of other games so guests have plenty of choices.
a retro 1980s party. Donkey Kong is true iconic 80s – play it up!
Halloween. Ask guests to come dressed as Mario or Luigi, Yoshi, a star, Donkey or Diddy Kong, etc.
a very unique baby shower. This is perfect for game buffs, and so much of the DK imagery fits well with a baby's room decor.
a grown-up birthday or "over the hill" party. In this case, all things retro will really make the occasion and remind the guest of honor that you're never too old to party.
How to Make a Cool Donkey Kong Party Invitation
You know what we always say around here — MIY (make it yourself)! Here's an awesome and easy tutorial for a Donkey Kong party invitation guests will love to receive. The idea is a gorilla hiding inside the barrel; guests pull the gorilla out to view the party information. Here's how to do it.
You will need:
card stock or other heavy printer paper
tongue depressors or wooden popsicle sticks, 1 per invitation
school glue
a computer and your own creativity
Instructions:
1. Look online for images of Donkey Kong (or one of his compadres, like Diddy Kong, Cranky Kong, Swanky Kong; or Princess Pauline for a girl's party).
2. Select your image and size it to fit within the parameters of one-half page of your card stock. Insert text describing the party: date, time, location and any other information guests will need. Arrange this over the monkey's belly area.
3. Print your image with text on individual pages.
4. With a magic marker, draw grid marks on each tongue depressor so it looks like a girder.
5. Cut out the shape of the monkey, princess or whatever image you've chosen. With a dot of school glue, secure one tongue depressor or ice cream stick to the back of one monkey. Keep gluing until you have enough "monkeys on a stick" for all your invitations.
6. Look online for an image of a barrel. Upload the image and size it so your monkey on its stick will fit inside. Align the bottom of the barrel with the center of the page.
7. Print out the barrel on card stock or any heavy paper. Fold the paper in the center (at the bottom edge of the barrel). Cut out the barrel so you have two sides (keep the folded side intact).
8. Glue the two open vertical sides of the barrel. Allow to dry.
9. Insert the tongue depressor monkey into the barrel. Mail or hand deliver.

Party Decor and Supplies
Find Nintendo Donkey Kong plates, cups and other party supplies and you'll cut your party prep time in half.
Check out these cool wall decals. The birthday boy or girl will love to take these back to his or her room after the party, too.
Hang racing checkered flags (for Mario Kart) or draw girders on long, thin strips of paper and hang along the walls and in the center of the party table.
Create a jungle scene with hanging vines (use thick green yarn), faux fruit like bananas and papaya, and print out palm and coconut trees and hang on the walls.
Print out lots and lots of cheery yellow stars. Cut out the shapes. Punch a hole in the top "arm" of each star with a mini hole punch. String yarn, ribbon or crepe paper through the hole; knot. Hang stars from the ceiling.
Party Food Fit For a King (Kong)
For the party food, go wild! Bananas are the obvious choice here. For very young children, cut bananas into slices; serve with a whole banana or two for visual appeal. For older kids, buy chocolate dip at the store; peel bananas and insert sticks (if you buy a chocolate dip kit, these should be included); dip into the chocolate and chill until the chocolate is hardened. Even better: freeze the chocolate bananas…mmm. Here's some more ideas:
Pinatas are lots of fun and double as both party snacks and an activity. Ask your local party supply store for Donkey Kong style pinatas. For small children, try a pull string pinata instead — nobody gets hurt and everyone has fun.
Bake cupcakes and place a Donkey Kong cake topper on each. After the cupcakes are eaten, wash the toppers and send one home with each child in his or her goody bag.
Buy a star-shaped cookie cutter. Make star shaped cookies (frost in yellow, with brown squeeze icing for the eyes). Another idea: cut out sandwiches with the star-shaped cutter.
Bake mushroom cupcakes; these are adorable. You can also have this be an activity: present guests with baked, cooled cupcakes, icing and add-ons and have them create their own cute mushrooms.
Serve chocolate foil covered gold coins.
Serve gummy bananas or other gummy tropical fruits.
Cut out melon balls and serve them as "fireballs." To garnish, cut small stars out of cheese and arrange around the plate. Add some washed grapes and you have a "Stars 'n Galaxy" platter that's healthy (shh-don't tell your guests!).
Put out activity place mats to keep younger guests occupied as you move from one activity to the next.
Play the Barrel of Monkeys game. If you don't already have a set, pick one up through Amazon.com or at your local dollar store.
Play musical chairs to video game midis or clips.
Awesome Kong Goody Bags
…Or in this case, boxes! Buy cheap cardboard foldable mini-boxes in white. On each, draw a dotted question mark using magic marker. These imitate the boxes Mario and his friends jump on to release prizes. These make adorable goody containers.
Fill the party bags with assorted candies, Super Mario temporary tattoos, Mario Brothers hats (check out ebay for deals — search under Mario Hat
) and foil-covered chocolate coins. Hand out to guests as they leave the party.