SpongeBob SquarePants Party Theme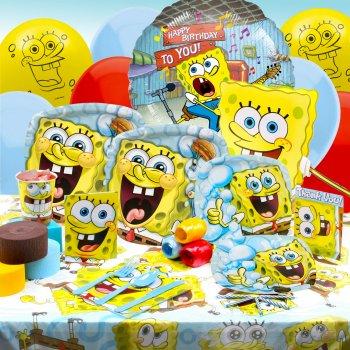 SpongeBob party kit, available at
CelebrateExpress
Who lives in a pineapple under the sea? If you're reading this, you probably already know—courtesy of your favorite little SpongeBob SquarePants fan. "Kids" of all ages (including grown ones!) have been tuning in to this whimsical, silly and slightly tongue-in-cheek show since Nickelodeon first unveiled it a decade ago.
Here's how to make a great birthday or other special day using a Spongebob Squarepants party theme.
Sending Out Invitations
Your task here is easy due to the easy accessibility of SpongeBob party accessories. Fill out and mail invitations with SpongeBob and his friends about two to three weeks in advance of the party.
You can add your own blurbs to the inside of the cards if you'd like; see the SpongeBob theme song for ideas, or ask your SpongeBob fans at home for a few great sayings.
Matching the Party Area to the Theme
Spongebob and his friends (including Patrick the starfish and Spongebob's pet snail, Gary, as well as stick-in-the-mud Squidward and SpongeBob's boss, Mr. Krabs, the owner of the Krusty Krab) live in the town of Bikini Bottom.
This underwater city is complete with buildings, roads and of course, a watery environment. Recreate Bikini Bottom by hanging a room roll on the walls. Add a SpongeBob tablecloth, some "water" using blue streamers, blow up blue balloons and your under the scene environment is set.
You can also create your own underwater scene by printing out images from your computer and taping them to the walls around the snacks table or party area. Luau style decorations will be a good fit, too.
Ocean Eats
Try these menu ideas for the full SpongeBob experience:
Krabby patty snacks: Set out round vanilla wafer cookies, vanilla icing, marshmallows cut in half (do this ahead of time), coconut dyed with a little green food coloring and squares of fruit leather. Have your guests put together the "sandwich" (the marshmallow is the patty, the coconut is shredded lettuce, the fruit leather is ketchup, the icing is mayonnaise and the cookies form the bun).
Krabby patty entrees: You can also make lunch Krabby patties simply by grilling burgers made of either meat, turkey, chicken or seafood.
Luau foods: Have a feast with pieces of fruit—especially pineapple!–either on wooden skewers for older children, or set out on a plate for youngsters. Cut a pineapple and put the fruit inside to imitate SpongeBob's pineapple house.
Ocean animal gummies: Kids love gummy snacks. Buy gummies in the shape of ocean animals and underwater scenery.
Great Games
The wacky world of SpongeBob SquarePants gives plenty of inspiration for party games that will get kids in a party mood. Here are a few ideas for a swimming good time:
Sponge Toss Competition: This is ideal for a hot day and an outdoor party. Pair guests two by two and have them stand in a line across from one another. Take soaking-wet sponges and have the guests toss the sponges back and forth. When a player drops his sponge rather than catching it, he and his teammate are out. The last pair wins a prize.
Don't Hold the Jellyfish: Fill a balloon with water for the "jellyfish". Have the kids stand in a circle and toss the jellyfish from one child to the next while you play music (the SpongeBob theme is perfect for this). Turn your back so you can't see the guests, and randomly turn off the music. The person holding the jellyfish at that time is out. Keep going until only one child remains; he or she is the winner.
Sponge Painting: Younger children will love creating their own Bikini Bottom mini-posters. Cut dry kitchen sponges into SpongeBob shapes and put out washable paint, or have smocks ready for the kids to wear. Then have them sponge-paint the images on their own pieces of paper or cardboard. Don't wet the sponges—have the guests dip them dry into the paints.
Balloon Octopus Craft: Before the party, draw a circle with eight tentacles radiating from it (think of drawing a sun) and cut it out. Make one for each child. During the party, have the children paint, color and/or glue small decorations to the tentacles. Then cut a small hole in the center of each octopus and blow up a balloon, tying it off through the bottom of the hole. Kids will love this take-home craft.
Let your child in on the party planning with ideas of his or her own or by helping set up the decorations and food. Trust us—this is one party theme that will make a splash with every age group!