Incorporating Party Favors into Decorations
You can make your decorations do double-duty as party favors and vice versa.  A themed party is always more fun when everyone at the party is dressed up.  Decorations can be more than just "icing on the cake," they can be part of the parting gifts for the guests.  They can also be incorporated into the activities of the party.  Here are some ideas for integrating party decorations as part of the party favors.
Tropical-Themed Party
There are several ways to use party favors as decorations or activities at a tropical themed party:
Leis: Get a bunch of artificial flowers
and remove the stems.  Give kids big craft needles and fishing line or ribbon and let them make their own leis to wear.
Beach Balls and Beach Towels: Blow up several beach balls to scatter about the party.  You can even hang them from the ceiling using fishing line.  Use clips to hang beach towels behind the food table, over the bathroom door, or other places as decorations.  When the party's over, cut down the beach balls and un-clip the beach towels and give them to guests to take home.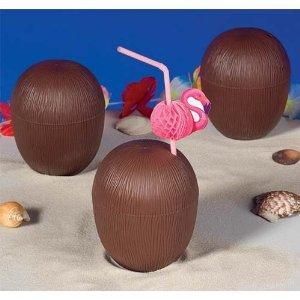 Coconut drink cups: Serve drinks at your tropical soiree in plastic coconuts or fun, tropical-looking cups.  Let the kids (or adults) take them home afterwards.
Party Favors and Decorations from a Hoe-Down
A cowboy party is fun to decorate and accessorize for.  Make "Wanted" posters with blown-up black and white pictures of your guests.   At the end of the party, give the posters to your guests to take home. (To do this, ask each guest in advance for a photo, and go to your local print shop to create them.)
Decorate the table with bandanna squares and cowboy hats.  Send one of each home with the guests at the end, as well.
For an adult barbeque party, little cacti or succulent gardens are nice decorations and can be sent home as party favors at the end.  (This is especially good if you need centerpieces for lots of tables.)
Sports Party Decorations
Almost every sports party requires pennants, noisemakers, spirit towels or pom-poms for the guests.  Let the guests take these home as party favors once the party is over.
Every party theme gives the party planner options for cross-purposing party favors for decorations.  Use your thinking cap and you'll save time and money by doing this.