Graduation Party Playlist
It may not seem possible, but that little kid that you once knew is now graduating. This is often hard for parents to grasp, much less the friends and family around them. It can be a major adjustment for even the graduate to get used to. Though it's a time for celebrating, it can also be rather emotional. This is surely above all a time to celebrate this great accomplishment with a party!
As you plan out a high school graduation party, (or college), there is much that you think about. You consider the venue, the guest list, any special requests that the graduate has, and of course the food. You want to set up the scene just perfectly so that family and friends alike can enjoy this most festive celebration. You also want to be sure that guests, young and old, can enjoy the venue and the party itself.
Let the Music Play On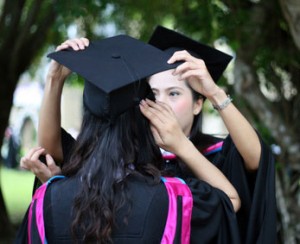 A big part of the graduation party and related festivities is of course the music. Not only does music play an important role in the graduation process, but it can hold a lot of meaning for the graduate as they move through this big chapter of their life. As a result of all of this, it's a good idea to create your own playlist for the graduation party. No matter where you are holding the graduation party, having these special songs on your playlist will create the perfect ambiance and plenty of emotion. Be sure to mix it up so that there are plenty of celebration related songs as well as those that evoke emotion for the graduate as well. Here is a great playlist to go with to celebrate your graduate:
Forever Young by Alphaville
Friends Forever by Vitamin C
A Moment Like This by Kelly Clarkson
I Will Remember You by Sarah McClachlan
With A Little Help From My Friends by The Beatles
These Are Special Times by Christina Aguilera
School's Out by Alice Cooper
The End of the Innocence by Don Henley
Graduation Day by Kanye West
Here's To The Night by Eve 6
I Hope You Dance by LeAnn Womack
Don't You Forget About Me By Simple Minds
This Is The Time to Remember by Billy Joel
The Climb by Miley Cyrus
Time of My Life by David Cook
If Today Was Your Last Day by Nickelback
It's So Hard to Say Goodbye by Boys II Men
Life Your Life by Rihanna
Waiting on the World to Change by John Meyer
Send Me On My Way by Rusted Root
One Moment in Time by Whitney Houston
Beautiful Day by U2
Time After Time by Cyndi Lauper
Celebration by Kool and the Gang
Good Riddance(Time of Your Life) by Green Day