When to Have a Graduation Party
It's that time of year again. Teens and young adults all over the world are marking that big jump from high/secondary school to college, or from college to (cue ominous music here) the real world.
Even younger children are in on the excitement as they get ready to make the move from one school to another (for instance, from elementary to middle school) come fall.
No matter where your child is in her education, moving up a notch is always a big occasion. A graduation party is the best way to mark the event. But you may find yourself competing with half a dozen or more "already taken" dates on behalf of your children's friends—who all had the same idea.
Scheduling conflicts can cause forced choosing of one friend over another, not to mention a lot of tears. Here's how to plan a graduation party all your son's or daughter's friends will be able to attend.
It's Time to Make Friends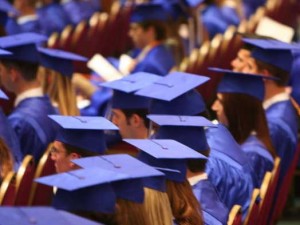 If you're not already on close terms with the parents of your child's best buds, now is the time to strike up an acquaintance. Get the phone numbers of your child's closest friends and call the parents to see whether they are planning grad parties of their own. Even better, e-mail them for an easy and quick way to correspond on this issue.
Explain to each parent that you don't want to "double up" on a date; they'll understand and in fact will be relieved to know they won't have competition for their own child's big day.
Before, After or Day Of?
Remember: A graduation party doesn't have to take place the evening of graduation, or even that weekend. Consider a combination graduation/beginning-of-summer party, or if your child has a summer birthday, a birthday/graduation party.
Take the summer plans of your child's friends into consideration. If your child's BFF is planning on backpacking through Europe in July, that's obviously not the time to hold your party.
Another option is to have the party before graduation. How about late May for a June graduation date? Take the kids to Six Flags or the beach for an extra-special, "welcome to summer"/graduation get-together.
Make it Easy to Attend
Make sure the party itself is easy to attend. If the party will be a distance away from your neighborhood, offer to drive all the kids. (Make sure your car SAFELY accommodates each child you're offering to bring.)
Forego glamour this time unless it's a high school or college graduation. If we're talking an elementary or middle school graduation, make sure it's casual dress, or opt for fun-wear: for instance, ask guests to "dress Hawaiian." The more casual and fun, the easier the guests' parents will feel your party is to attend, and the better attendance you're likely to get.
Say Thank You
Last of all, remember the thank-you notes after the party. And yes, let your little grad girl or guy fill them out. This is a great lesson for kids of any age, and will be very much appreciated by the parents.