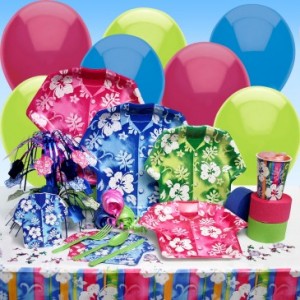 A Luau party specifically designed for teens promises fun for all, all day and all of night.  To throw the best party, carry the theme through all aspects of the event: from invitations to goody bags, and everything in between.
Invitations and Ground Rules
A luau party works well for a sleepover, because you can have tiki-torches and a fire pit (with adult supervision), and luau late into the evening.
Invitation Ideas for a Luau Party
A simple invitation could be a hibiscus flower cut-out with all of the party details.  Pink, red, yellow or orange construction paper or card stock would work.  Use a metallic gold gel pen to write the invitations.
Message in a bottle invitation:  Clean and dry out clear soda bottles.  Once the bottles are COMPLETELY DRY, put about 1/2 cup of clean sand, four or five tiny shells and a scroll of paper with the invitation details:
"You're invited to a tropical luau at [LOCATION] on [DATE AND TIME] to celebrate [OCCASION].  We'll be sleeping on the "island," so bring a pillow and a sleeping bag, and your best tropical outfits. See you there!"
Ticket to Paradise Invitation: Use a piece of card stock to create an invitation that looks like an airline ticket.  Then, write the details of the party on the ticket.  Title it "Your Ticket to Paradise: a Luau for [OCCASION].
Sleepover Rules
Slumber parties are all kinds of fun for teens.  You do need to set a few ground rules for the event to be fun and safe for everyone.  Limit the number of guests to between 6-8 people.  That's a manageable crowd for an overnight.  Make sure that all alcohol in your house is locked up.  Make sure your daughter knows that everyone at the party needs to stay within the perimeter of the residence, and that if anybody needs to go anywhere, they need to talk to you first.
Hawaiian Words
Help your daughter welcome her luau guests in true Hawaiian fashion! Here are some easy Hawaiian words to master before the party:
Aloha
[ah-LOH-hah]     Greetings!
E komo mai
[eh-KOH-moh-mai]     Welcome!
Hau'oli La Hanau
[HAU-oh-lee-LAH-nau]     Happy Birthday!
Mahalo
[MAH-hah-loh]     Thanks!
Kanikapila
[kah-nah-kah-PEE-lah]     Let's play some music!
A hui hou
[ah-HUI-hou]     Good bye
Luau Decor
Decorations will make or break your luau party.  Here are some ideas for decorations to purchase or make yourself.  These will turn your backyard into a tropical island.
Tiki bar: Just because your hula girls aren't old enough to belly up to the bar doesn't mean you can't turn your buffet table into a tiki bar!  Get a grass skirt or three from the party supply store, and staple or tape them around the table, like a skirt.  Then, use bamboo garden stakes to create a frame above the table.  Hang twinkle lights, a tiki bar sign, flowers, and even a fake parrot from the frame.
Potted palms, or inflatables: Potted palm trees are fairly inexpensive houseplants that can be found in almost any large hardware store with a garden center.  After the party, they are great indoor plants.  You can also purchase inflatable palms to place around the party.
Tiki torches (with LED light candle "flames"): Whether you trust your girls with live flames is up to you, but now you can get tiki torches, and replace the wick with an LED candle.  That way, you get the flickering ambiance, without the flame.
Parrot pinata: Everyone loves pinatas.  And, until this parrot sings his last tune, he can double-duty as a decoration.
Tissue Paper Flowers:  Make tissue paper flowers, large and small, by picking up a sheet of tissue paper by the center, and folding it into a flower shape.
Paper lanterns: These large, glowing orbs make any party magical.  They will set the scene for the luau, and can be saved and re-used for other parties.
Twinkle lights: In particular, white lights and blue lights.  String them in the trees, back and forth across the patio, or in the area where the girls will sleep.
Music to set the Mood
Some beach tunes and a little bit of ukulele music, and you've just about set the mood.  There are some great CDs with music for the luau party, and several playlists of MP3 downloads on Amazon.  Check out two playlists:
The two best playlists are here:
Hula Hoops, Activities, and Crafts
Keep the hula girls occupied with fun games and crafts.
Grass skirts:  start with the outfits!  An easy way to make "grass" skirts is to purchase several table skirts from a party supply store, green, of course, because they already have a "band" around the top.  Let each girl measure the amount she needs, and then cut it off the table skirt.  Then, cut the skirt into strips.  Fasten with a safety pin, and you're good to go.
Leis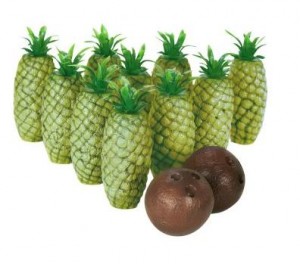 :  Buy a variety of inexpensive artificial flowers, and remove the stems before the party.  Give each girl a long strand of string, and let her string together her own lei.
Hula Hoops: Hula hoops are fun to make, but you can just as easily buy them.  If you buy hula hoops, let the girls decorate them with different colors of electrical tape, or a personal touch.
Limbo: How low can you go!  Limbo is fun to play over a SOFT surface.  Everyone lines up, while the limbo music plays, and slides under the limbo stick.  Then, the stick is lowered on notch.  This goes on and on until you have a winner!
Decorate flip flops: Rubber flip flops are cheap and easy to find.  Buy a variety of sizes and colors, and get some tacky craft glue.  (Extra sticky).  Girls can decorate their 'flops with rhinestones, flowers, shells-anything available at the craft store.
Decorate beach bags: This is a fun craft that doubles as a party favor.  Get cotton bags, and puffy paint or fabric markers and let the girls go to town.
Bowling with Pineapples and Coconuts:  This activity looks so fun and kitschy, that we couldn't resist adding it to our party plan.
Tiki and Tropical Treats
Some of these treats have actual tropical flavors, while others just evoke the ocean breezes because of their names or shapes.  All are guaranteed to delight even the pickiest teenage eaters.
Virgin Pina Coladas, Daquaris and Margaritas
Tropical fruit kabobs
Hawaiian pizza
Goldfish crackers
Swedish fish
Limbo Sticks (Pretzel rods)
Shave ice with flavored syrup served in coconut cups
Macadamia Nut Chicken Fingers with Honey Mustard Dressing
Macadamia Nut-Crusted Chicken with Honey-Mustard Dip
Ingredients:
* Nonstick cooking spray
* 2-3 pounds of chicken drumsticks, skinless
* 1 1/2 cups herb-seasoned stuffing mix, crushed
* 3 1/2 ounce jar macadamia nuts finely chopped
* 1 egg
* 3 tbs milk
* 1 tsp soya sauce
* 2 tbs honey
* 3 tbs butter, melted
1. Preheat oven to 375 degrees. Lightly coat 15×10×1 inch pan with cooking spray.
2. In a shallow pan, stir together nuts and the stuffing mix. In a small bowl, combine the milk, 2 tbs honey, 1 tsp soya sauce, and the milk.
3. Dip chicken into the mixture and then into crumb mixture to coat. Place in the pan. Drizzle with melted butter.
4. Bake for 45-55 minutes. Do not turn chicken when baking.
Honey Mustard Dip:
* 1/2 cup mayonaise
* 4 tsp mustard
* 1 tbs honey
Combine mayo, mustard, and 1 tbs honey. Mix well and serve with the chicken.
Luau Party Favors
Tuck these goodies into the personalized beach bags that the girls decorate during the party.
Flip flops
Hula bobble dolls
Lip gloss
Inflatable beach balls
Stickers
Hair bands or clips with flowers on them