Host a Fiesta for Cinco de Mayo!
Shake your maracas and put on a sombrero because it's fiesta time! Whether you want to celebrate Mexican culture on May 5th or you want to create a fiesta any time of the year, here are some fast, fun and affordable ideas for a Cinco de Mayo party.
Invitations
Affix your invitation to a packet of taco seasoning
Send your invitation attached to a red silk rose and ask all of the senoritas to wear it at your party.
Invite your guests to come dressed in Mexican-style attire or fun costumes.
Décor
Drag out your Christmas lights to make your party bright. If you want to make it a true Mexican fiesta, only use the red, green and white lights to signify the colors of the Mexican flag.
Make your party a "green" event by recycling red, white and green tablecloths, dishes, glassware and décor.
Nothing could be easier, more festive or more indicative of a fiesta than paper flowers. They're easy, inexpensive and fun for both adults and kids to make. I did a video on how to make the paper flowers here.
Soak the labels from used tin cans. Use an awl to punch out a festive design and insert votive candles to give the cans the look of a Mexican lantern. Use these to line your walkway or as candleholders throughout your party space.
Another way to make luminarias is to use plain paper sandwich bags or white, green or red favor bags. Use a hole punch to create your design from the top down to about two-thirds from the bottom of the bag. Fill the bottom of the bag with sand or kitty litter. Insert a votive candle. (If you're concerned with having a live flame, insert battery-operated pop lights in the bags to achieve the same warm illumination.)
Drape your space with sombreros, serapes, ponchos, Mexican art, clay pots and other Latin-themed décor.
Refreshments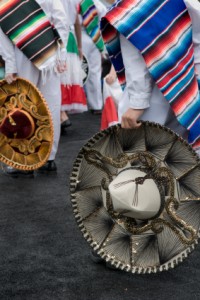 Serve corn or flour tortillas in the brim of a straw sombrero and serve with salsa or guacamole in a Mexican-themed bowl.
Chili con queso, fajitas, enchiladas, tacos, and chili are always crowd-pleasers.
When setting up your bar, don't forget the margaritas and tequila.
To make traditional sangria, add oranges, limes, and peaches to sweet red wine in a large pitcher and let ferment for several hours or overnight. In Mexico, they serve two-thirds of the sangria mixture with one-third of club soda to create sparkling sangria.
Entertainment
Get everyone up to do the Mexican hat dance.
If your budget allows, bring in Mexican folk dancers and/or mariachis. For smaller budgets, pick up some Mexican music
or download some songs for your iPod that you've attached to a speaker. Then hand out maracas for your guests to shake in time to the music.
If you know someone who plays an acoustic guitar, ask him or her to learn a couple of Mexican favorites to help entertain your guests.
Don't forget the piñata.Fill it with candy and trinkets and let everyone have fun taking a shot at trying to crack the piñata while blindfolded.
Party Favors
Traditional Mexican candy or boxes of "Red Hots."
Maracas
Sombreros
Small Mexican flags