Think Green for Earth Day and Save Green All Year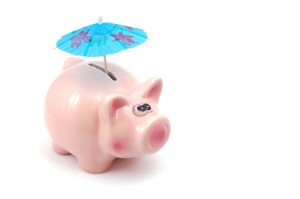 It's easy to go green and save money when you buy your party supplies in bulk so that they can be used for a multitude of parties and gatherings throughout the year.
When you buy plates, cups, serving supplies and decorations for Christmas (especially if you can get them at huge savings at after-Christmas sales), choose plain red, green, blue, white and metallic colored-items rather than Christmas-specific items. You'll still get the theme across for your holiday celebrations but you'll be setting yourself up for savings by choosing more generic pieces.
For instance, besides Christmas, red and white items will be ideal for Valentines Day. And, when you add blue to your red and white supplies, they are perfectly patriotic for President's Day, Memorial Day, July 4th, Labor Day, Veteran's Day, Election Day and any other political events.
Reuse, Reuse! Christmas Lights for All Occasions
If you have multiple strands of multi-colored Christmas lights
in the large bulb style, unscrew all of the bulbs and use only the red, white and blue lights to decorate your patriotic party site. Here's a couple other ideas for different holidays:
If you have white icicle lights, use them around your backyard party for a July 4th celebration and they will look like fireworks exploding around your party.
Small twinkle lights, tucked into bushes, will look like fireflies gathered around your summer outdoor celebrations.
Mix the blue and metallic silver supplies for a beautifully festive Hanukkah celebration.
Or, if you mix red, white and green items, you're all set for a Columbus Day, Cinco de Mayo or any other Italian or Mexican-themed fiesta.
Red and gold are the Zen combination for a Chinese New Year celebration.
Green items work as well for St. Patrick's Day, Easter and Earth Day as they do for Christmas. And when you combine green with metallic gold and purple you're ready to let the good times roll at Mardi Gras.
If you think color and not event-specific theme items when purchasing party supplies, you'll not only be saving your money, you'll be saving the planet.