Nick Jr. Birthday Party Themes
Do you have a little one who is in love with one of the featured shows on Nick Jr.? There's a wealth of characters to choose from – Dora, Diego, Yo Gabba Gabba and the Wonder Pets, just to name a few. These shows are geared more towards the younger set, such as preschoolers, who identify with the voices, colors, shapes and interactive play. Dora and Diego involves your children in quests and riddle solving, while the Wonder Pets encourage creative problem solving and building structures (such as the Flyboat, made out of marker caps and a frisbee.)
These characters all make for fantastic birthday party themes. Whichever show your child loves, create an entire environment around their beloved character. Here are some ideas:
Create the Party Theme for Your Little One
Dora and Diego
Both these characters go on quests – Dora the Explorer has to find something or somebody. Diego has to rescue a certain animal – thereby introducing new creatures to children. Both shows also teach some Spanish phrases. With this in mind, set up your party with animals, (a jungle theme for a Diego), and include some Spanish influences like maracas and pinatas.
Games can include rescuing an animal and a treasure hunt using a map. Also, don't assume that girls will go for Dora and boys for Diego. My daughter completely gravitates to Diego!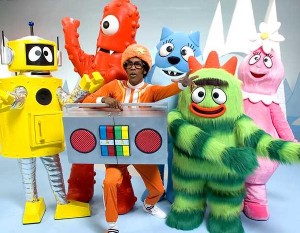 Wonder Pets
These beloved baby pets (a guinea pig, a turtle and a chick) have to rescue an animal in trouble. The animation is photograph stop-motion on a cartoon background, for realism. The show emphasizes teamwork, problem solving and construction. For your child's birthday party, have them construct a phone with string and tin cans (just like in the show) , or have them construct fly boats with a variety of materials. For a fun game, have your little guests rescue an animal in trouble.
Yo Gabba Gabba
DJ Lance Rock hosts this popular and award-winning show, filled with live-action characters doing skits or dance numbers, retro props and visually creative sets. For your party, decorate with bright primary colors and confetti, and if you really want to go all out, build retro robots and 1980-era video game backdrops. As well, dust off your ghetto blaster and play some of your old school rap tapes! This party is all about dancing and "breaking it down!"