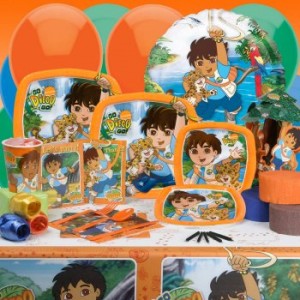 Go Diego Go party pack, available at
Buycostumes
Go, Diego, go! Have Diego from the popular Nick Jr. television show, along with his sister Alicia, be the stars of your child's birthday party this year. Guests will go ape over the jungle theme, fun activities and good eats at this year's Diego birthday party bash.
Go, Diego, Go! is a spinoff of the popular show Dora the Explorer, so incorporate Dora decorations, party favors and games into your get-together as well.
Party Décor
You'll want a jungle or other outdoorsy theme for this party. Hang streamers in two or three colors of green, along with brown, to imitate vines. You can also hang streamers from the party table for the same effect.
Balloons are always a hit. Blow them up and tape them to the walls, or better yet, rent or buy a helium tank. These are surprisingly reasonable in cost and will create floating balloons the party guests will love to play with.
Cover the party table with a long piece of butcher paper. Tape it down. Cut "paw prints" out of sponge, dip in paint and dab the prints around the table cover's edge.
Put a cool personalized birthday banner on the wall to congratulate the birthday boy or girl and to give the room a fiesta feel.
Diego Invitations
You can easily find printable Diego invitations online, or buy ready made invites. Choose images of Diego and Baby Jaguar, Dora and her monkey pal Boots, and Diego's sister Alicia.
Everyone recognizes the "Go, Diego, go!" tag, so have that at the top or inside of the invitations. Tell guests, "We need your help…to make our party fun!", "Help! Help! The (choose your child's favorite animal) is in trouble!" or "Follow the map to adventure," along with a printed map and a big "X" marking the party location. here's a fun example:
What to Eat
Jungle and adventure themes, as well as Mexican and Spanish favorites, will go down well with your party guests. How about:
"Jungle juice": pineapple juice with lemon-lime soda
"Jungle mix": peanuts, pretzels and small candies (such as M&M's)
Party cake with a Diego cake topper
Cupcakes with brown, orange and green sprinkles
Diego Party Activities
Have a wild time with these great party ideas:
Have an Animal Rescue Center. Place stuffed animals on a table along with bandages, toy stethoscopes and blood pressure cuffs, and candy "pills" for the animals to take.
Set up a face painting station. Paint kids' faces to look like their favorite animals.
Play "Dora, Dora, Diego." This game is in the style of "Duck, Duck Goose."
Put up a pull-string Diego pinata. Have guests take turns until the candy and goodies come down!
Set up a scavenger hunt. Write hints on parchment-looking paper; create this by briefly soaking white paper in coffee or tea, then allowing to dry. The paper will have a slightly dark color and some wrinkles to perfectly imitate parchment.
Let kids draw or color Diego-themed pictures. (link)
Great Party Favors
Send kids home with:
toy binoculars
explorer hats
gummy candies in animal shapes
small coloring or other activity books
Have a wild time with this fun party theme!