Helpful, lovable and oh so engaging, the Wonder Pets (a Nick Jr. TV creation) and their teamwork are a huge hit among preschoolers. In each episode of the show, three animal friends – Linny, Ming-Ming and Tuck – come to the rescue of others in need, showing kids how to work together to achieve success. Here's the lowdown on how to jump to your child's rescue with a wonderful Wonder Pets theme party!
Decorations for a Wonder Pets Party Atmosphere
The Wonder Pets are both innovative and thrifty in putting together what they need for rescues (the show's Fly Boat is an example). Luckily for you, this means that decorations made of items around your house are perfect to set the scene. Try these ideas:
The Phone, the Phone is Ringing!
A must for your party table is a "tin can phone"  like the one that alerts the Wonder Pets that they're needed in each show. Here's how to make your own tin can phone:
Remove one end each from two aluminum soup, fruit or vegetable cans, making sure no sharp edges are left. Clean and dry each can thoroughly.
Have your child help you write numbers, telephone-style, on a piece of construction paper. Glue the paper around one can.
Now punch a hole carefully in the closed end of each can. Insert string into one hole and tie off inside the can so it can't slip back out. Do the same with the other can so the two are connected by the string, and you're done. Set the phone up in the party area so guests can take turns talking to each other on it.
Rescue the Party Animals Game
If you have old hamster or gerbil cages in your basement or attic, bring them out of storage to star in your Wonder Pets party. Clean them and set them up on various tables in the party room. Place stuffed animals inside – each with the tag of one of the party guests.
Have the kids take all the stuffed animals out of their cages – except that the birthday boy or girl's stuffed animal is missing! Their animal is in trouble! Play-act rescuing scenes like the ones in the show. Watch some of the episodes for ideas of what to set up to rescue – for instance, reveal that the birthday child's animal is a baby dolphin who got caught in a fishing net. This … is … serious! Let all the kids work together (teamwork!) to untangle it. All the kids get to keep their stuffed animals at the end.
Add Some Music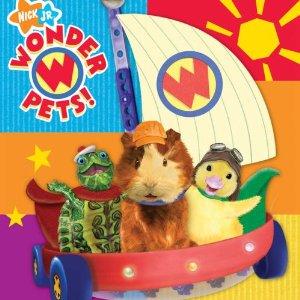 A large portion of the show's dialog is sung, so be sure to have plenty of music on hand. Music can also figure into games for the guests. For example, try musical chairs, or play "The Freeze," where the kids dance until the music is suddenly stopped; then they must freeze in place.
Of course, the guests will love it all the more if you use music from the show, so try a CD of Wonder Pets song favorites.
Get in Character
Invite guests to play dress-up for a fabulous and fun activity. Have costume pieces around for the kids to change into. These should include animal costume pieces as well as superhero garb. Imitatable show characters are:
Linny the Guinea Pig. The unofficial leader of the group, Linny is big on teamwork and praise. Her catch phrase is "This calls for some celery!" (see Wonder-ful Foods, below).
Turtle Tuck. Tuck is empathetic and is always ready with a hug. He's also frequently praised on the show for being observant ("Good eye, Tuck!")
Ming Ming the Duckling. The youngest member of the Wonder Pets team, Ming Ming tends toward overconfidence – which leads to hilarious situations on the show that needs creative problem solving.
Ollie the Bunny. He's a recurring character whose tendency toward boastfulness often backfires on him, also to comical results.
Wonder-ful Foods
Linny's catch phrase is, "This calls for some celery!" Have celery and other cut-up veggies available, along with ranch dressing or party dip. One of my favorite snacks as a kid was "Ants on a Log" – take a whole celery, add peanut butter, then top with raisins.
Create foods made from whole grains (something else many animals love). SunChips, granola bars and a party mix made from oat cluster or "O"s-type cereals are perfect.
Make "pet food" by combining pop corn, pretzels and nuts (make sure these are a size that won't be a choking hazard). Sprinkle M&Ms on top. Set out on "pet food dishes" (buy these at a dollar store; be sure to ONLY use dishes that are brand new) around the table.
The birthday cake can be the flyboat – create a regular round cake, and cut into an oval shape after baking and cooling. Add red icing (the color of the frisbee which is the flyboat) and stick on the plastic toy wheels and marker lids. Use Smarties for the lights on the side. The mast is an erector set stick and piece of paper with the Wonder Pets logo. (Or, if you don't have the time, bake a regular cake and add Wonder Pets cake toppers.
Serve with juice, water or milk … or, if some kids like V8 vegetable juice, serve with a celery stick! (I don't know any kid that likes it, but who knows!)

We're not too big and we're not too tough, but when we work together we've got the right stuff! This is one great party that, when it's over, you can say "Our work here is done!"

.