Yo Gabba Gabba! Birthday Party Ideas
Nick Jr.'s children's show Yo Gabba Gabba! is a huge hit among kids. Grown-ups like it too for its cool attitude. Here are some ideas for invitations, party decorations, food and games for the Yo Gabba Gabba! birthday party your child has been begging you to have!
Yo Gabba Gabba! Party Invitations
You can easily find party invitations that show Muno, Foofa, Brobee, Plex and the whole gang. Time-pressed parents can and should go for this option – you can even personalize your invite with Muno and an image of your child.
If you'd rather make the invitations yourself, print out images of the show's characters on one side of a page. Fold the page over and then cut the image through both sides of paper, leaving the left-hand side uncut, so that you have a party card in the shape of the character.
Insert your text – the party date, time and location – before printing. Let your child color the invitations if he would like.
Decorations and Your Party Theme
Go all out and decorate the party area as the land your child's favorite character is from (Brobee, Foofa, Muno and Todee come from Fall Tree Land, Spring Flower Land, Summer Volcano Land and Winter Ice Land respectively).
This is easier than it may look. Simply buy a long paper roll and either sketch out the images, or print images from your computer, paste them on the paper and have your child color them. Then hang the paper on the walls of the play area.
Here's a couple other fun decorating ideas for your party:
Toss confetti on the floor to imitate the beginning of the show, when confetti is dropped.
Let your child in on the decorating. She'll love coloring in or outlining pictures of her favorite characters and setting the party table with plates, cups, napkins, forks and spoons.
Don't forget the tablecloth! Set out a Yo Gabba Gabba! theme tablecloth—either buy one or use butcher block paper to cover the table, and decorate it yourself with the help of your little one. Match tableware to this theme, too. Remember, he party table is part of the decoration scheme.
If you're having a large party and renting a hall, decorate each table with the primary color of each character, and their season
Yo Gabba Gabba! Party Foods
The show is all about multiple, bright colors, so choose multicolored candy like Skittles, several colors of corn chips (yellow; orange; blue) and colorful vegetables cut up and served with dip.
Make punch in your child's favorite Gabba Gabba character color by mixing lemon-lime soda, orange juice and a little food coloring.
Bake and frost a cake in the Gabba Gabba band's multiple colors or make individual cupcakes in varying Yo Gabba Gabba! colors. As you serve the cake, play "Party in my Tummy" rather than the standard "Happy Birthday to You."
Ask your child which character is her favorite. Then make cupcakes of that character. Go easy on yourself – "Muno" cupcakes, for example, can be frosted with red icing, then have a simple eye "drawn" in the middle with white and black icing.
It's Game Time!
Host party activities along the show's theme, like the following: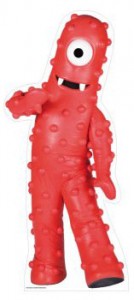 Retro Dance Party – During the show, it is "Dancey Dance" time. So, host your own! Check here for Dancey Dance music.
Purchase Yo Gabba Gabba costumes and allow kids to play dress-up (these will come in handy at later parties, for dress-up or even for Halloween).
Play "Pin the Tail on Muno" (always good for a giggle due to the fact that Muno actually only has one eye). Draw Muno on a large piece of cardboard, (or download this template), tack up on a wall or door with removable double-sided tape and glue Velcro to the back of a bunch of cardboard "eyes". The child who pins their "eye" closest to the center of Muno's actual eye wins!
Party Favors
Send kids off on a high note buy buying or making boom box-style favor boxes and stuffing them with treats. Another great idea is buying solid red, green, purple, blue and orange bags, with the Yo Gabba Gabba characters pasted to them.
Try a mix of candy and small trinkets
or anything that comes in multiple colors and is small, such as a high-bounce ball. Include crayons and a small Yo Gabba Gabba coloring book or note pad, some confetti pieces and perhaps even a personalized Yo Gabba candy bar.
Characters to Know
Last but not least, here's a rundown of the members of the Gabba Gabba Band so you can include the party girl's or boy's favorites:
D.J. Lance Rock: The groovin' host of the show.
Foofa: A pink tambourine-player.
Muno: The cyclops who plays the guitar.
Toodee: She's a blue dragon/cat who performs on bass.
Plex: He's yellow and plays the "keytar".
Brobee: The little green monster who performs on drums.
It's the perfect ending to a party that's one rocking good time.
Yo Gabba Gabba also has a live tour – check the dates to see if they are in your area!