Yo Gabba Gabba Birthday Party Ideas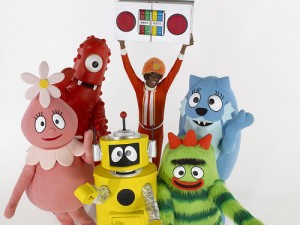 The colors, the music, the characters – there has never been a show quite like Yo Gabba Gabba before. Amongst the preschool set, this is the hot new cartoon, but yet it's so much more than that. If you are hosting a birthday party for your little one and this happens to be their favorite show, then you are in luck with the perfect theme that allows you to have a whole lot of fun!
Dance the Night Away
One of the most important aspects of the show is the dancing. As DJ Lance Rock spins those funky and retro tunes, it's all about the music and the dancing. The perfect way to celebrate your little darling's birthday is to get the kids up and moving. Create a mini dance floor right in the middle of your living room. Be sure to use songs featured on or inspired by the show and keep the tunes playing. You can create little competitions to inspire the kids to dance, or just let the music do the work and watch them get down.
Create Your Favorite Character
Among this age set, playing "dress up" is a big deal. So if you want to combine a favorite pastime with a favorite show, then incorporate some sort of costume into this birthday party. You can invite the kids to come dressed as their favorite characters such as Foofa or Muno. Alternatively you can get the costumes and allow them to dress up as part of the festivities.
These don't have to be full fledged costumes of each character, but they must keep in the theme such as a green ensemble for Brobee or pink accents for Foofa. You want to be sure that you have the instruments for each character on hand as well because their music making is a big part of who they are, so keep true to this. The kids will have tons of fun dressing up as their favorite character and rocking out their favorite tunes!
Let the Colors Flow
Another distinguishable feature of Yo Gabba Gabba is the colors, and this gives you a lot of leeway when it comes to planning out a themed birthday party. Let the kids decorate their own cupcakes, which is fun, delicious, and can incorporate a lot of festive colors. Bake up some cupcakes with funky frosting colors the night before and then get all sorts of decorations such as sprinkles, edible glitter, candy pieces, and anything else that is in bright vibrant colors.
Decorate the party venue in all of the bright vibrant colors that the show is known for. Then incorporate a bit of fun within that theme such as a piñata, caricatures, or even balloon figurines that you can have made into the likes of their favorite characters. So long as you keep the colors bright and the fun going, the kids will have a blast!