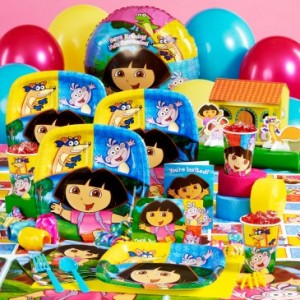 Dora the Explorer party pack, available at
CelebrateExpress
If you've ever wondered what has helped make Nick Jr. (produced by Nickelodeon) such a success, watch shows like Dora the Explorer.
That is, if you haven't already. Most parents have heard Dora's and Diego's names multiple times in the household, along with "It's on, Mommy…hurry up!" And now your youngster no doubt is asking for a Dora birthday party. It's a great choice because the possibilities are limitless but won't break the bank. Let's get started.
Quien es Dora? (Who is Dora?)
Character Dora Marquez grabs your little viewer's interest with her animal rescues, interesting map explorations and her cheery attitude (even toward rivals like the fox, Swiper). The show entertains a broad audience by sprinkling both Spanish and English, making it accessible to children of a variety of backgrounds.
Though obviously a child herself, Dora helps little ones learn patience and tolerance—as well as problem-solving skills—by reacting even to villainous characters with fairness and helping all creatures great and small. Luckily for parents, the moral lessons are hidden artfully in a series of adventures that involve watchers as Dora searches for clues and asks for the audience's help.
With pal Boots, a monkey, and co-character Diego, Dora takes children on journeys of both the map and the imagination. It's easy to see why your youngster loves her and why the show is so popular, making it a great choice for a birthday party.
Decorations
Deck out your home like a jungle! Have green, brown and black streamers hang from the ceiling to just below the height of your child and let the guests walk through the "jungle" to the party area.
Turquoise, yellow and pink are typical Dora colors and look great on balloons, streamers and the tablecloth.
Have footprints leading to the party area (draw them in chalk on your floor—test this first to be sure it will come off! – or place Velcro on a carpet in footprint shapes) and a big "X", map-style, in front of the party table.
Invitation Ideas
Print out small maps of your area, or of some place your child would love to visit. Write the party invitation on the opposite side. Roll each map like a scroll and tie it with ribbon.
Write "Vamanos (let's go)! It's a party!" on the invitations.
Print out images of Boots, Dora, Diego and jungle or exploration pictures from your computer. Have your child cut them out. Each will be an invitation with the information written on the back.
Place Dora the Explorer stickers on the invitations.
Have "Where are we going?" above the party information.
Be Explorers
Have explorer hats and binoculars for each child. Hide party goodies—pieces of candy or small treat bag toys—in the yard. Let the children run around and "discover" all the treats; have them put them in goody bags to take home.
Find What Swiper Swiped
Be "Swiper" by secretly taking one item away from the party while the children aren't looking. Announce that Swiper has swiped the item and that they must find it. The first child to find the hidden item wins a piece of candy.
Play a Sport
Dora loves sports. If it's a nice day out, let the guests play outside with whatever safe sports items you have around the house, such as plastic bats and balls, a soccer ball or a badminton set.
Foods
Honor Dora's Spanish heritage with these goodies:
Chips and Mexican salsa
Tacos
Quesadillas (stuff with chicken or beef in addition to cheese if you'd like)
Spanish rice
Vanilla pudding/flan (a custard with caramel sauce)
Goody Bags
Pack take-home gifts in mini sombreros, Dora party boxes, or anything turquoise, pink and yellow. Mini back packs are a great idea too!
The Pinata
You simply can't have a Dora party without a pinata! Buy or make one and stuff it with goodies. Let kids have turns pulling the pinata strings. After the candy spills out of the pinata, have the guests grab their goody bags and fill whatever room they have left with the treats. It's the perfect way to end your Dora the Explorer party.