Elmo Birthday Party Ideas
Every preschooler I know (including my two) go nuts over Elmo, or, as my youngest daughter says, "Ehh Mo!" So why not invite Elmo, Dorothy, Zoe and other Sesame Street characters into your home with an Elmo birthday party?
Here's some fun ideas, invitations, decor ideas, food and activities to host a magical party for your child.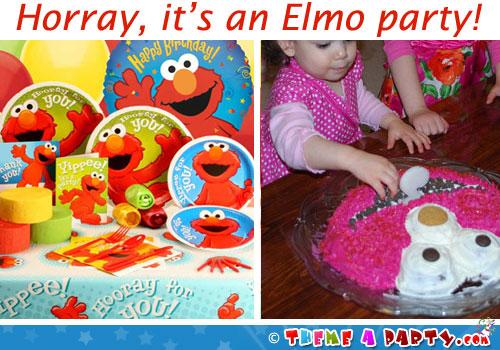 Elmo Birthday Party Guide:
Creative Invitations
The best way to create a fun theme is to start with Elmo invitations. Your invitations should follow your theme to let guests know there's plenty of fun in store.
Use fun, engaging wording on the inside of the invitation, such as "Come on over to Elmo's World!" or "Sunny day, sweepin' the clouds away…it's [your child's name's] birthday!" You can find Elmo invites at a variety of places, but it's so much more fun to make your own!
Here's a few ideas:
"Mouth" invitations – you will need a white piece of paper, and card stock in red, black and orange. Cut out circles in the white and red paper. Glue them together, and fold. You now have the invitation. With the rest of the white paper, cut out a double-circle to make the eyes, small black circles for the pupils, a black smiling mouth, and an orange nose. Paste them to make Elmo's face. Write the party details inside. (See image on right)
Felt invitations – with red, white, black and orange felt, cut shapes to make Elmo's face (furry head, eyes, mouth and nose). Write the invitation on a separate piece of paper and glue it to the back of the felt
Funny Fuzzy Elmo – with red, black and orange card stock, cut out shapes and glue to make Elmo's face. Write the party details on the back. Flip to the front again, and glue on large googly eyes. Finally, glue red "fur" on his face (you can find this at a craft store, or use bits of yarn or red craft grass).
Choose Elmo-style wording for your party invites if you're making your own (and we recommend this – it's so easy, and so much fun to do). Examples:
"This is the party, la-la la-la, [your child's name's] party!"
"Won't you tell me if you'll come … if you'll come to my Sesame Street party?"
"Elmo loves his goldfish, his crayon too … and he loves to see YOU … so please come to [your child's name's] party!"
Print the wording on invitations shaped like Elmo's face – click below to download an Elmo face template for your invites and games.
Another idea is to look in your local dollar store for miniature plastic bowls to serve as Dorothy's fishbowl; print out invitations, roll up and insert one into each bowl, then add a plastic goldfish or a package of edible gummy fish. This and other 3-D or large size options work best for hand-delivered invites around the neighborhood.
If you're mailing the invitations, stick to paper, which will be an easier and much less expensive option for you. Just be sure to include a goody, like a page of Sesame Street stickers, in each envelope for the fun factor and to get little guests in the mood to party.

Elmo Talks About Birthday Parties
It's Dorothy's birthday today! Elmo celebrates with all his friends, and learns about different types of parties, how to make a cake and how to wrap presents (watch how Mr. Noodle tries to wrap a birthday gift at the 3 minute mark – hint: you don't need five yards of tape!)
Elmo Decorations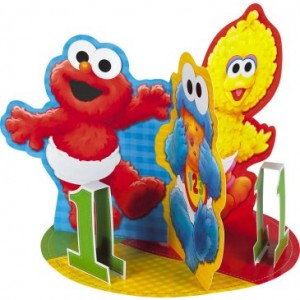 Choose Elmo and Sesame Street theme party supplies such as tablecloths, cups and plates, napkins and a centerpiece on the party table. Sesame Street cut-outs look great on the walls, too. Choose primary colors, crayon themes and Sesame Street themes (see below for ideas.)
If your big boy or girl is turning one, be sure to emphasize this with a banner announcing "(Baby's) 1st birthday," 1st birthday cards, and decorations. Banners are also appropriate and will quickly and inexpensively dress up the party area.
If you previously had an Elmo baby shower, and kept the decorations, bring those out too!
Try some of these decoration ideas to create Elmo's World in your own home:
Goldfish in a bowl. This decoration idea is great because it doubles as a birthday gift, provided you feel the birthday boy or girl is old enough for the responsibility.
Buy a live goldfish, a bowl, goldfish food, fish gravel/rocks and at least one decoration for the bowl. Name the fish Dorothy and present "her" as a gift.
Be sure to keep this fragile decoration out of harm's way if you're inviting very young guests, but take each attendee over to the bowl and hold his or her hand to have a look.
Sesame Street sign. Make a big Sesame Street sign by cutting the shape out of a piece of cardboard. Cover the cardboard with aluminum foil. Now paint "Sesame Street" on both sides of the sign. Place it on a broom or any tall dowel or pole you may have around the house and set it up next to the front door or the party entrance. Another option: Paint "[your child's name]'s Street" on the sign instead of "Sesame Street." This is also a great idea for a Sesame Street birthday party.
Elmo and Sesame Street characters. Print out pictures of Dorothy, Big Bird, Oscar the Grouch, Zoe, Cookie Monster, The Count and all of Elmo's best buddies. Hang them on the walls of the party area with double-sided, removable tape.
Walk your feet to Sesame Street. On a piece of cardboard, draw an outline of an Elmo footprint (make it look fuzzy on the edges, but be sure it's identifiable as a footprint) and cut out the shape with scissors. Using the shape as a pattern, cut as many shapes out of red construction paper as you'll need to line the way from your front door to the party area.
Elmo's room. Imitate Elmo's crayon-drawn room from his popular show by drawing his window, door and computer on large-size butcher paper. If you can't find the butcher paper, tape together multiple pieces of any size paper or cardboard and draw your shapes on these. Draw on the details, like the window shade, computer monitor and keyboard, and door knob. Hang on the walls of the party area.
Elmo supplies can easily be found at:
Elmo Party Activities
If you will be inviting children of mixed ages, be sure to have activities that will keep them engaged and playing with one another, like these:
Coloring pages are appealing to all ages; have children sit down, color one Elmo or Sesame Street page from a coloring book and hang the artwork on the walls. Give out a prize for each ("most original," "neatest," etc.).
Classics such as pin the tail on the donkey can easily be customized to your Elmo party theme. Try "pin the nose on Elmo," "put Dorothy (Elmo's pet fish) in her bowl" or "pin the hair ribbon on Zoe" for original ideas.
You can also play "The Freeze," a game where music is played and the children dance. When you shut off the music, the guests must hold whatever pose they're in. The first one to fall down is out. Keep going until there's only one child left. Give that child the Grand Prize (such as a party favor box with pieces of candy or dried fruit slices and a small toy) and a small piece of candy each to the other participants.
Elmo is very easy to make – Before the party, cut out large red circles (his face), white and black circles (his eyes), yellow noses, and black happy faces. Mix all the paper parts up in a bowl. With some glue, have each child assemble Elmo. This is also a great take-home gift.
Have a pinata! Children love the fun of seeing their efforts result in a mountain of goodies falling all around them. Be sure to take plenty of pictures; the looks on their faces will make you smile for years to come.
Hooray for Food!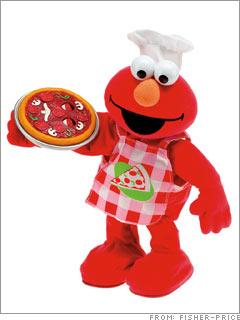 A Sesame Street cake is a must. Want to try making your own? It's easier than you think. Check out a fun tutorial of your dear party host making an Elmo cake for his daughter's 2nd birthday.
Elmo LOVES pizza!. Order in, pick up or make your own from scratch.
Because Elmo's face is so simple, you can easily make an Elmo pizza! Simply make a slightly oval pizza dough, and add two half circles of dough to make his eyes. Add sauce, cheese, and cover with pepperoni for his red face. Add mushrooms for his white eyes, olives for his mouth and pupils, and pineapple tidbits to make his nose. Bake in a 450 degree oven for 10 minutes. Let cool for 10 minutes. Yum!
Make punch using red ingredients (of course!) for Elmo. Red fruit juices are perfect. Feel free to add small chunks of fruit if your guests are over three and the pieces won't pose a choking hazard.
Make Grouch Juice … Oscar's favorite! Use 7-Up or Sprite coupled with any clear-colored juice, such as non-food color added grape juice. Add drops of food coloring in alternating blue and yellow until you get a deep green color.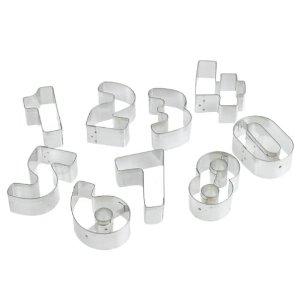 Cook up a batch of Sesame Street cookies. Buy cookie cutters in the shapes of your child's favorite Sesame Street characters. Or look for letter or number shapes, since the show teaches both.
Use your favorite recipe or make things easy on yourself and buy pre-mixed, refrigerated dough. Roll out, cut and bake. Decorate with sprinkles.
Elmo and Zoe Cupcakes. Elmo and Zoe are great friends, so why not combine your party with these two characters. Check out a video (bottom of the page) on making Elmo cupcakes.
Goldfish crackers. They fit in perfectly with the theme, and really, what could be more convenient and inexpensive? Plus, kids love them.
Teddy Grahams and other toddler-friendly foods. Make sure everything you choose is easy for youngsters to chew and swallow. Teddy Grahams and similar treats are perfect for the Sesame Street set.
Chocolate chip cookies. Make your own – these are so easy and there are so many different recipes out there. Or buy a roll in your store's refrigerated section. Break off pieces and bake. Chocolate chip cookies are Cookie Monster's favorite munchie.
Make the food offerings creative by serving them out of Sesame Street-themed containers. Pick up a small-size waste paper basket at your local dollar store; cover it with green paper and draw lines so it becomes Oscar's garbage can.Fill with party goodies.
Another idea: serve foods in plastic goldfish bowls, like Dorothy's bowl. Or buy disposable plates with Elmo's face on them; arrange treats on each plate and set out on the party table.
Your guests' parents may stay for the party, so be sure you have a few "grownup" foods around. Cut raw vegetables and chunks of bread with spinach dip, make veggie or fruit kabobs, and serve sandwich wraps and plates cheese or nuts for adults to snack on while their kids party out.
Or just go for pizza…it's not just kids (and Elmo) that love a great 'za!
Dressing Up for the Party
A costume Elmo theme party will add interest for kids ages two and up. On your invitations, ask guests to dress as Sesame Street characters.
You'll get extra mileage out of this idea later when your child can re-wear the costume for Halloween and for everyday dress up play. Be sure to buy or make a costume in a large enough size so she can enjoy it again and again.
Adults, there's also adult Elmo-themed costumes available too.
Party Favors
For favors, go for what kids love. Crayons, stickers and small toys (make sure these aren't a choking hazard for very young children) are popular picks among kids. So are rubber duckies, like Ernie's bathtub friend.
Or try fun and fashionable Elmo or Sesame Street t-shirts for smaller groups.
Have fun with the theme – there are so many great Sesame Street ideas, and everybody loves Elmo. Get creative and be sure to let us know what you come up with!