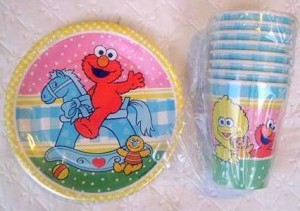 Baby Elmo Party Supplies, available new on
eBay
"This is the shower, la la la la, Elmo's shower…" Okay, so the meter may be off, but this idea is spot-on. Elmo is huge with kids…including grownup ones who remember him from their own Sesame Street-watching days. You're going to have a blast putting together terrific party invitations, planning a menu and inviting friends to an Elmo baby shower. Let's get started.
Creating Adorable Elmo Invitations
It all starts with an invitation, so set the theme by creating an adorable Elmo baby shower invite.
Certainly feel free to include other Sesame Street characters—such as Zoe, Baby Bear, Bert and Ernie, Cookie Monster, Oscar the Grouch and Kermit the Frog – in your invitation motif. Though he moved along to self-starring roles, Elmo started out as just another "kid" on the show, so surround his image with those of his cute buddies!
If you have a gift cardmaking program, start there, but you don't need to get fancy in order to produce a professional-looking baby shower invitation. Look online for gift card and party invitation layouts and enter text and clipart where you'd like.
For the greeting, take tips from Elmo's show. Try:
"Come to Elmo's World to celebrate a little muppet on the way!"
"Sunny day, sweeping the clouds away…Come celebrate (Mother's name and Father's Name)'s new little bundle of joy with Elmo and friends."
"Elmo wants to invite you to a baby shower."
"Presents, cake, games, muppets…what's not to love? Please come to our baby shower!"
TIP: If you (or the person you are holding the baby shower for) is registered for gifts at a store, be certain to mention this on the invitation.
Choose traditionally Sesame Street-type colors (bold crayon greens, reds, yellows, bright orange and blue, etc.) and print your invitations at home, or take a disc to your local print shop and have them run off your invites. Using a heavier and/or shiny paper/card stock will add to the upscale look of your invitations, but stay within your budget.
The Sweetest Decorations Ever
Décor possibilities with this theme are huge. Take your pick! How about a great diaper "cake" as a centerpiece? Sesame Street character cutouts (make your own with just your computer, printer and some heavy stock paper) on the walls? An Elmo tablecloth, or Muppet Babies, is adorable too.
Be sure to have plenty of balloons around the area. Forget pink or blue—in honor of Elmo, use bright primary Sesame Street-type colors.
Set up a few Muppet Babies (or other Sesame street characters) stuffed animals at the gifts table for the finishing touch.
Party Food
Baby showers tend to be very hands-on affairs. Guests will be handing the parents-to-be gifts to open, snatching up wrapping paper to be tossed, taking notes for sending thank-yous later and helping to dish up food. So keep the party snacks simple and easy for guests to manage.
Veggies with Big Bird Dip: Cut up raw vegetables and arrange on a platter. In the center, place a bowl of dip with a line of sesame seeds around the perimeter of the dip, or sprinkle seeds around the veggies.
Dorothy's Fish Food: Easy as pie (easier, in fact!)…simply set out Goldfish crackers in bowls.
Elmo Loves Spaghetti: Actually, everyone loves spaghetti—but it's not an easy food to eat from a paper plate balanced in one's lap. Try other pasta variations that can more easily be handled, such as cold pasta salads.
Elmo's Yummy Fruit Punch: Mix a red colored juice (raspberry, cherry) with a clear-colored soda, such as lemon-lime. Cut up chunks of fruit and float them on top for a pretty presentation.
Sesame Street Finger Sandwiches: Buy Sesame Street-shaped cookie cutters and use them to cut the bread for sandwiches.
Cookie Monster's Stash: Give cookies a festive twist by baking simple sugar cookies (mix your own, or buy pre-made dough) in beautiful shapes, then frosting/icing a few in bright Sesame Street colors or adding sprinkles.
Great Baby Shower Games to Play
It wouldn't be a baby shower without a few rather silly games and a lot of laughter. Try these spins on old favorites:
Name the Baby. Take a phrase ("We love Elmo," "Welcome Little Baby," "Coming Soon" or anything that strikes your fancy) and hand guests pencils and paper. Give them 60 seconds to come up with names for the baby out of the letters you've chosen.
Baby Diapering Race. Don't ask us why, but this is WAY more fun when dads are involved. So if you're inviting both men and women to your baby shower, do be sure to work this game in! Take a baby doll and a newborn-size diaper. Now blindfold the first participant. He or she must diaper the baby as quickly (and accurately! No backward diapers allowed) as possible. Use a stopwatch and be sure to cheer each contestant to increase the competitive fun.
Sesame Street Trivia. Gather all the trivia you can ("Who created the Muppets?" "What year did Sesame Street debut on TV?") and go around the room asking questions. Contestants are "out" as they miss a question. The winner gets a "dirty diaper"–a cloth or disposable fresh diaper filled with candy, a gift certificate or another fun but usable treat.
Last of all, encourage guests to bring gifts that fit the Elmo theme. Sesame Street receiving blankets, toys, feeding dishes, bottles, sippie cups and clothing are perfect. You'll absolutely love putting together and celebrating with an Elmo theme, and your guests will love joining in the fun.