How to Make a Diaper Cake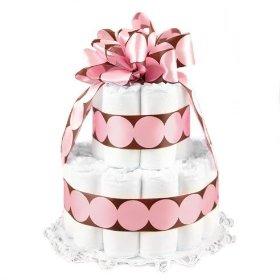 It's fun, it's functional and it's not a carbon copy of every other baby shower gift out there. What's not to love? Make a diaper cake for the next baby shower (even more fun if it's a diaper cake themed shower!) you attend and impress the guests with your ingenuity. Here's how.
Step One: Gather Your Supplies
Ready, get set…shop! Don't worry…you can do this one more cheaply than you might think. You will need:
approximately 60 disposable newborn-size diapers (buy in bulk rather than smaller individual packages to save money; you may also find deals in baby supply stores, such as Babies 'R Us. Heck, even Amazon sells diapers!)
Up to 60 small rubber bands (your local dollar store is your friend here) plus 7 large rubber bands
One 4-oz. baby bottle and one 8-oz. baby bottle (dollar store again!)
A cake platter (disposable is fine, and usually very economical)
Decorations: enough ribbon to go around each of three cake "tiers" (see below); small baby items such as wash cloths, small baby books, pacifiers, rolled receiving blankets, rattles, etc.; one or two medium-size stuffed animals
Step Two: Create the "Cake"
Time to get creative! Here's what you do:
First (Bottom) Cake Tier
Begin unfolding the diapers; roll each and secure firmly with a rubber band. For this first step, you'll need enough rolled diapers to completely surround the 8-oz. baby bottle standing up (vertically). Once you have the diapers around the bottle, secure the whole shebang with one of the large rubber bands.
Create a second layer (outward) around this first and secure in the same way, with a large rubber band (you will be using more diapers this time as the circumference is wider).
Then create a third layer as above and again, secure with a rubber band. What you'll have at this point is the first "tier" of the cake, three diapers "deep" with the bottle standing up in the middle.
Second Cake Tier
The second tier will be just like the first but will be one layer smaller in circumference. Wrap just like the steps above. The baby bottle should now be completely covered vertically by diapers.
Top Cake Tier
For the third (top) tier, place the 4-oz. baby bottle in the center (right on top and in the center of the second tier) and proceed as above, but with just one circumference layer.
Wrap ribbon around each "tier" horizontally to imitate a decorated cake and use the rest of your ribbon to tie an oversize bow at the very top. Attach the smaller baby items to the sides of the cake for a fun and festive look. Around the base, for added visual appeal, place a stuffed animal toy or two.
All done—now get to that baby shower before all of the real cake is gone!