Elmo and Zoe Birthday Theme
Muppet pals Elmo and Zoe make quite a pair. They also make an ideal birthday theme! We LOVE this theme because it combines a classic show – Sesame Street – with two characters every kid adores.
An Elmo and Zoe birthday theme party is appropriate for toddlers and preschoolers…a notoriously active bunch. Keep them (and the party) hopping with a few well-planned, child-friendly things to do. Here are some of our favorites:
Let guests decorate their own cupcakes. Making their own food is something preschool-age children love to do, and best of all, they get to eat the results! It's easy…here's how:
Bake cupcakes or buy premade ones at your local grocery store bakery.
Frost the cupcakes in red (for Elmo) and yellow (for Zoe) or in any bright, kid-appealing colors (green, blue, orange).
Have edible decorations ready. Make sure you have a big selection for the guests to choose from. Ideas include Hershey's kisses, M&Ms, Skittles, coconut flakes, chocolate or peanut butter chip pieces, multicolored sprinkles, gummy candies, candied/maraschino cherries and chopped candy bar bits.
Clear the table of any other food or objects so the children can feel free to go to town on this delicious little project.
Give each child an old T-shirt of yours, turned inside-out, to wear as an apron.
Place a cake topper on each if you'd like. Make sure guests know these aren't edible (or for very young children, take them away before they dive on in).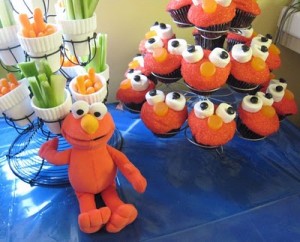 Elmo cupcakes, by
Just Jenn
Play Pin the Nose on Elmo or Pin the Ribbon in Zoe's Hair.
Draw an image approximately two feet in height of either Muppet. They're easy to freehand, but an even simpler option is to download a picture of each character from the internet and enlarge it, then print in sections and tape together. Here's a picture of Elmo and Zoe as prince and princess.
Hang the image on the wall with double-sided sticky tape. Make sure you use a brand of tape that won't harm your paint or wallpaper.
Cut out a nose (or a hair ribbon). Trace around it enough times that each guest will have one nose. Cut out the noses. Number them and let your child color them in with a crayon. Place a square of double-sided tape on the back of each.
Blindfold each child and let him or her try to pin the object in the correct place.
Play Elmo-Elmo-Zoe. This game is played like Duck-Duck-Goose. All guests except one sit in a circle. The guest who is standing goes around the circle, tapping each child on the head and saying "Elmo, Elmo, Elmo" until he randomly chooses to name one child "Zoe". The "Zoe" then gets up and chases the tapper, attempting to tag him before he gets to her empty spot.
It's best to plan the most physically active games before the cake or other sweets are eaten so the children don't get tummy aches. Toward the end of the party, let them color Elmo, Zoe and other Sesame Street printouts for a quieter activity until it's time to go home.