6 Awesome Teen Birthday Ideas
It was so easy when they were little. Decorate a cake, blow up a few dozen balloons, have plenty of room for them to run around and voila—the birthday party was set. Now they're, well, bigger—and suddenly, nothing you can come up with sounds "cool enough."
Yep: been there, done that, fired the rent-a-clown. But don't worry – we've got it all wrapped up for you. Try these ideas to please the most finicky teenage birthday girl or boy.
Host a Sleepover. Since it almost certainly involves a very late night, lots of food and parents who aren't in view (though we know you'll be keeping an ear out), teens love a birthday sleepover party. Invest in a ton of munchies and a parent-approved movie or two, grab every pillow in the house and make a little den just for your teen and a few of her best friends.
Let Her Perform. Have a music-inspired party. If Hannah Montana rocks your tween's boat, go Disney with Hannah-style decorations in purples and pinks. Other possibilities are the popular Camp Rock movies or this season of American Idol. Have DVDs of the chosen show or movie on hand to play during the party. Afterward, rock a karaoke contest with a rented or purchased karaoke machine.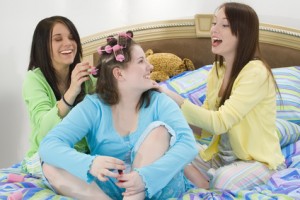 Glam it Up. For a teenage birthday girl, have a makeover party. Have non-irritating cosmetics available, as well as a gentle face cleanser for cleanup afterward. Then let the guests go crazy with face, nails and fragrance.
Have an Adventure. With permission from the parents, of course, plan a day at a local amusement or theme park. Tip: Bring another adult with you to supervise who's going where, give each guest a little cash so they can make their own choices and limit the guest list to two or, at the most, three friends in addition to the party girl or boy. Also be sure to ask guests to bring their cell phones.
See a Movie. Take your child and a few friends to the latest popular tween or teen flick. Keep it G- or PG-rated, but let guests feel more grownup by having them vote from choices you pick, and give each a few dollars for candy and a drink. Then leave to another movie in the same theater complex so you're within walking distance.
Have a Holiday Tie-In. If your teen's birthday falls near Halloween, go crazy with orange-and-black decorations, a Goth style atmosphere (including music) and some traditions kids this age still secretly love, like pumpkin carving. For winter, have a Christmas cookie-baking party, or in June or July, host an evening party and let the kids outside with sparklers and poppers (NO dangerous fireworks, please).
You know you want to be the cool mom or dad this birthday. It's easier than you think. By choosing the above possibilities, you'll be giving a little bit of leeway while still keeping everyone safe. It's a win-win situation for both you and your child … er, your "when did you get to be so tall?"