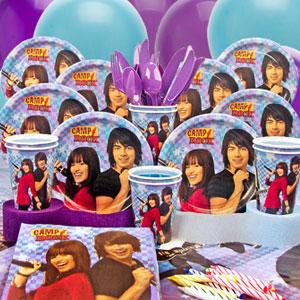 Camp Rock party pack, available at
Birthday in a Box
What's as cool as (or…psst…maybe even cooler than) a Hannah Montana party? The Disney Channel's instant-hit movie Camp Rock, starring Demi Lovato and (squee!) The Jonas Brothers.
No doubt you've been hearing it from all your child's friends: this is "the" movie to see. You're going to have a blast rocking out to this party theme, so get started on planning a Camp Rock birthday party. Grab some rockin' party favors, a few camp-style foods and a karaoke machine and you're on your way.
Rockin' Invitations: Three Great Ideas
Make sure the party invitations match the Camp Rock theme. Try one of these easy ideas:
Make guitar-shaped invitations. Print simple images of a guitar off the computer. Cut out the shapes and write the party information on the back.
Take a small square of material and roll one invitation up in each. Tie them loosely with a ribbon to imitate rolled sleeping bags.
Have your tween or teen draw flip-flops and write the party information on them, or buy small plastic novelty flip-flops and attach them to the invitations.
Party Decorations: A Camp Atmosphere
Create a fake camp right in your living room to get teens in the mood for a Camp Rock party.
A few days before the party, ask the party guests to send in several pictures of camp, singing and/or summertime fun. Tape the pics up on the walls of the party area.
Scrunch up brown paper to look like a pile of burning logs. Place battery-operated flickering candles in the center. It's a safe way to get the look of a camp fire indoors.
Also check out Camp Rock-themed balloons and centerpieces for a colorful party atmosphere.
Camp Foods
Remember all the food they forced you to eat in summer camp? Yep, that's what you're looking for here—except that with you preparing it, it's actually going to taste good! Try some of these well-known camp favorites:
ice cream bars or ice cream in individual plastic cups for dessert (or Italian ices)
Rock Out! Ideas for Party Fun
Don't forget the most obvious element to your Camp Rock party—the music. Get the soundtrack and play it during the party. Then hold a "Final Jam" (like the competition in the movie) karaoke-style.
Party favors will go a long way, too. Microphones (especially during the karaoke sing-off), stickers and bracelets will make the guests feel like they're part of the movie—and definitely part of the fun.
Camp Rock II is due out this summer, so plan the party then and you'll get even more ideas. Better yet, have two parties sleepover-style with just a few guests each. (Include a showing of either movie, or both, toward the end of the evening or party.) These are easy to arrange, and the kids will agree they're the best parties they've attended all year.