Hannah Montana Birthday Party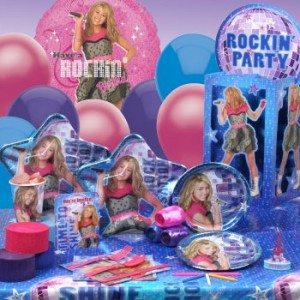 Hannah Montana party pack, available at
Celebrate Express
Hey, Mom. What time is it? Time to rock! Your tween or teen will love a Hannah Montana birthday party to celebrate her special day.
No surprise there—Hannah Montana dance parties and birthday get-togethers are highly popular among young girls. Be the star of your very own block by hosting a Hannah party for the celebrity in your household.
Pumpin' Up the Party
Hannah Montana's character, played by singer and actress Miley Cyrus, is all about breaking out of the mold and having fun. (In the show, Hannah Montana is the nighttime secret alter-ego of school teen Miley Stewart.)
Get things rocking with a CD of your youngster's favorite Hannah Montana songs, such as Pumpin' Up the Party, The Best of Both Worlds (the show's theme song), Make Some Noise and of course, Rock Star.
Have the music playing as each guest arrives. (Party tip: Purchase CDs of Hannah/Miley Cyrus and give one out to each guest as a party favor when it's time to leave.)
Playing Around
To really get guests in the mood, have a karaoke singing contest to Hannah Montana songs. Combine this with a dance contest and you've got a party that's really rocking.
A pinata is another party idea that never goes out of style and spans all age groups. A guitar, star or other rock-and-roll shape follows the theme and will be the perfect addition to your party.
To cool things down after all the physical fun, sit your star and her guests on the floor with some popcorn and a Hannah Montana, the Movie DVD.
Star Atmosphere
Don't forget to decorate the living room or party area. Bright, sparkly colors are best, especially pinks, purples and shiny silver or glitter. Try streamers and a rockin' centerpiece to add too-cool ambiance.
A life size cutout of Miley Cyrus as Hannah is another great idea. Have each guest stand next to the cutout and rock a pose as you take a picture she can take home with her.
Food Fit for a Rock Princess
With all the singing, dancing and jumping around, the guests will probably want food that's portable. You, meanwhile, will want something that's easy to clean up. Nutrition doesn't necessarily have to take a back seat either.
Try cucumbers cut into small stars by slicing, then using a 1" cookie cutter to create the shape. Popcorn can be a lower fat but eminently snackable alternative to some heavier fare. Be sure to have plenty of bottled water, juice and soda (if you'd like) available so your dancing tweens stay hydrated throughout the fun.
Gotta Have It
Of course, if the party girl wants to be fabulous, she should dress the part. Invest in an inexpensive, quality "rock star" costume and a Hannah Montana wig (hint: get your money's worth by having this outfit double as her costume this Halloween).
Have guests dress up too with a few bangle bracelets or a charm bracelet, wigs and makeup (be sure to buy gentle, hypoallergenic makeup that's easy to wash off).
If the party will double as a sleepover, do have a party cutoff time. You may think the giggling group will never go to sleep, but after so much partying, you'll be surprised how quickly they'll drop off once you point them toward the nearest sleeping bag.
Now it's time for you to put up your feet and enjoy a job well done—and a party well planned!