7 Great Ways to Add Fun to Your Yo Gabba Gabba Party
Who doesn't love Yo Gabba Gabba? If you are a fan of the show or have a little one at home who loves to dance along with all of the adorable characters then this can make for an excellent party. If you are planning a party around this theme then you absolutely need to incorporate some fun filled games.
It's not hard to plan these games out. You have the backdrop of some wacky but lovable characters and some great dancing. With DJ Lance mixing up the tunes and the best party games around, this is sure to be the birthday party of the year. The kids will have a blast, you'll be in on the fun, and you will be thrilled that you selected this theme for all. Here are some of the best party games, and they really aren't hard to pull off either!
Dance, Dance, Dance the Party Away: You can't have a Yo Gabba Gabba party without dancing. Turn your living room into a dance floor and be sure to bust out the funky tunes. Have an adult act as DJ Lance and play the part by spinning the best kid's dance music and calling out the character names. You can teach the kids dance moves and then have a competition for who can pull them off the best. Fun for everyone!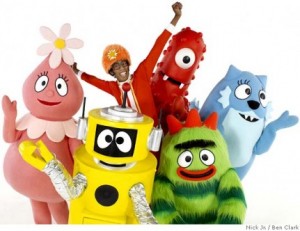 Creating Your Very Own Yo Gabba Gabba Character: Kids adore these characters because they are so different than any other that they know of. So put out all the supplies to let them create their own and this can even turn into the favor that they take home with them. You can start with construction paper, streamers, glitter, markers, stickers, crayons, and anything else that you can think of. Help them along as they recreate their very own Muno, Flex, Brobee, or even DJ Lance. Let the kids use their imagination and turn this fun art project into a perfectly themed favor that the kids can enjoy long after the party.
The Very Musical Chairs: Since the show is known for the music and fun, how can you not incorporate musical chairs? Pick some music right from the show and use it as the backdrop for the musical chairs game. Then set up the chairs and be careful to remove one slowly so that nobody gets hurt. The kids will have so much fun running in circles in rhythm with the music and playing for keeps on this funky game.
Pass the Musical Balloon: Hot potato may be so yesterday, but pass the musical balloon is here to stay. Pick a brightly colored balloon and then decorate it. Either fill the inside with confetti, place glitter all around the outside, or put character stickers on it to fit the theme. Then it's time for the kids to pass around the funky balloon as the music plays. Nobody wants to be left holding it but they sure will have fun passing it around with each other!
Freeze Play: So many of us grew up playing freeze tag but this is a new and improved version perfect for this kind of party. The kids are essentially playing freeze tag but it's more about being the last standing without moving. You play the music and then ask them to freeze as soon as the music stops. At first it's easy as you give them plenty of notice, but then it gets harder as you stop the music faster. Kids will be laughing as they try their best to freeze quickly and then play again once the music starts.
Pin the Flower on Foofa: Pin the Tail on the Donkey is always a favorite, but this game is only for the true Yo Gabba Gabba lovers. Here the kids will take turns getting blindfolded and then trying to put a cute little adhesive flower on the Foofa picture. You can even create this yourself if you can't find it in stores. You just need some flower stickers, a picture of Foofa that you can even print out, and a blindfold. They'll love this modern twist on a classic game.
Whack at the Wacky Pinata: The characters of this show are nothing if they are not wacky. So turn that silly energy into the perfect little piñata and have a real blast with it. The kids will take turns trying to get the Foofa or Plex piñata to fall and get all the candy inside. Be sure to fill the piñata with some brightly colored candy and perhaps even some stickers of their favorite characters.
This is a party that kids will remember for time to come. It's a great theme, easy for parents like you to plan around, and sure to please everyone. Have a blast and dance it up at this adventurous little get together!