Yo Gabba Gabba! Characters for Birthday Parties
Quick – name the members of the Dancey Dance Yo Gabba Gabba band. If you were able to rattle off the whole crew, kudos! If, on the other hand, you're feeling a little lost (who is the monster with one eye, again?), we can help.
Why Yo Gabba Gabba?
Cartoon characters – and cartoon-like costumed characters in filmed shows, just like Yo Gabba Gabba! — are hugely popular for children's parties. They can be incorporated into any and every part of your theme party: the invitations, the tablecloth, the decorations and even the goodie bags.
But you need to know who's who in this fun show before getting started. Below is an easy reference of the Yo Gabba Gabba! characters, and what their personalities represent – your little one just may see herself in there somewhere! Heck, you can even buy Yo Gabba Gabba costumes, for your party or for Halloween.
DJ Lance Rock
DJ Lance heads up the show. He is the narrator and a friend of the Yo Gabba Gabba! bunch. Like the others, he transports to Gabbaland.
Muno
Everyone loves Muno – if you've watched the show, we'll bet you do, too! Muno is a one-eyed gentle giant of a monster. He and Foofa are best friends. Muno plays guitar in the group's band.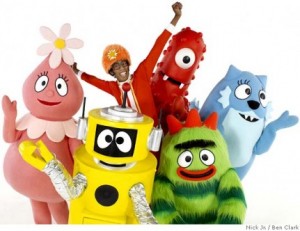 Foofa
Pink-colored Foofa is Gabbaland's true girlie-girl. She adores rainbows and unicorns and plays tambourine in the band.
Brobee
Interestingly, Brobee is the only Yo Gabba Gabba! character who changes facial expression during the show (his mouth changes from a smile to a frown and vice versa). This curious green character plays the drums.
Toodee
Just what is Toodee, anyway? She is most frequently described as being a stylized version of a cartoon cat – and that's about as close a explanation as we can arrive at, too. Whatever her species, Toodee is a fun character; she is a bass guitarist and loves to play.
Plex
Plex is a yellow robot with the talent of bringing things into existence with a special ray. Plex is quite intelligent and something of a father figure to the others. Hey plays the "keytar."
Foofle
Blue-colored Foofle is Foofa's older brother. He's a beachcomber who loves to surf.
Gooble
Gooble cries a majority of the time. He first appeared in (what else?) the episode "Happy."
Using What You Know
Now that you know the characters, it's time to put this information to use at your child's upcoming party. Buy inexpensive costume pieces and play Yo Gabba Gabba! dress-up. Have kids "play" in a band – run background music from the show – funky retro 80's or a CD of the music
from the show – and let them do this karaoke-style. Also make sure you have plenty of dancing, which is a popular element to the show.
You and your child will also have fun choosing different Yo Gabba Gabba! characters for the party invitations. Print out images from the computer and let your little one color them in. If she's old enough, have her write the party information on the back of each invite or type up the info on a document that you can then print over your image printouts. The invites will set the mood for the party and get guests excited and raring to go!