Munchies That Will Kick Your Super Bowl Party Into the End Zone
It's almost game time and that means it's time to dream up some new munchies to kick your Super Bowl party into high gear. If you are hosting this year, it's all about big plays and converting some of your old favorites into new traditions.
Let's face it, the women are at a Super Bowl party to socialize, watch the commercials, and eat the food. The men are there for the game but they still want good food. So your job as host is to come up with some delectable treats that will make you the MVP of this party. Go beyond the standard nachos this time around and show that you can run interference with some of the best Super Bowl munchies ever.
Pulled Pork Sandwiches
These are not hard to make and the good news is that you can prepare them well in advance. Throw some pork into the crock pot the morning of the big game. Throw in your favorite barbeque sauce and seasonings to really bring out the flavor of this favorite dish. This needs to cook for awhile on a low setting to really allow it to fall off the bone.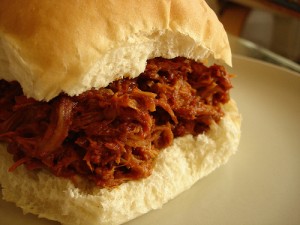 Pulled pork sandwich, by
su-lin/Flickr
Pull the pork off the bone once it's cooked and tender and then throw in a bit more sauce to really add the right level of flavor. Put out some big crusty buns for people to make their own sandwiches and you're done. This is such a tasty sandwich that you really don't even need any extra toppings for it … but if you do, shredded lettuce would go nicely, or even a pineapple ring will give it a "luau in February" ring.
Sliders
Everyone loves a burger and these miniature versions seem to be the hot trend right now. Lucky for you it's easy enough to make the small patties ahead of time and then throw them on the grill like you would for any other burger. The key is to keep the hamburger patties small and to find buns meant for this tiny little burger.
Do be sure to grill some onions as that's a must with the slider. That just adds to the flavor and makes it seem like the greasy version that you'd find out. Put out all the fixings like ketchup, mustard, lettuce and tomato and you are sure to satisfy even the biggest appetite.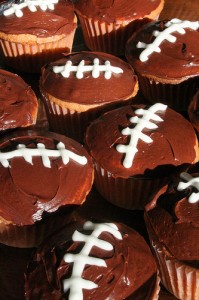 Tasty footballs! By
Lydiat/Flickr
Buffalo Chicken Dip
If you like buffalo wings and you love to dip, then this is the perfect dish! Simply take some shredded chicken that you can create yourself off a store bought rotisserie chicken as a starter. Then add some of your favorite buffalo sauce to give it a bit of kick.
Mix this together and place on top of a layer of cream cheese and blue cheese. Top with shredded cheddar cheese and pop in the oven until it is golden and bubbly. You will have a touchdown with this dish as it takes a common favorite in a whole new direction. Serve it up with tortilla chips and guests will be licking the bowl!
Football Cupcakes
Everyone has a sweet tooth, even the biggest manly man. You can create some simple cupcakes that you throw in the oven to bake the day before. Even going for a store brand or cupcake kit will work just fine. The key is in the frosting and you want chocolate or something brown as a base.
Once the cupcakes are cooled frost the top with the chocolate or brown frosting. Then take white frosting and create the lines associated with a football. This is so easy but guests will be in awe when they get ready to satisfy their sweet tooth with their own football cupcake. The perfect ending to the perfect Super Bowl feast—you will be the quarterback of this culinary team!