Super Bowl XLVI Party Planning
The plays. The sacks. The crowds. The buffet table! Yes, it's that time of year again–time for a big party to celebrate–oh yeah–football! This year the Super Bowl is on February 5th in Indianapolis, Indiana at Lucas Oil Stadium, where the New York Giants will be playing the New England Patriots. Here are our tips for the most fun Super Bowl Party ever, including inspiration from the Superbowl XLVI host city Indianapolis.
Super Bowl party planning begins in early January, even before we know which teams are playing in the big game. That's because the teams are really superfluous to a fun party.
The Super Bowl is an EVENT. So much so that if you and your friends don't much care about it, you can get married during Super Bowl weekend and enjoy savings of 50% off your typical bill at resorts, caterers, photographers and event venues.
We're not among that group — after all, who WANTS to miss the big game? If you too are a fan of super Sunday no matter who's on the roster, here's how to get in on the action and throw a fantastic Super Bowl fete at your house.
Super Bowl XLVI Party Decorations
Every party is more fun with decorations — the Super Bowl included. If you're planning during the playoffs and don't know yet which teams will be matched up on Feb. 5, you can still get started. Buy officially licensed Super Bowl XLVI plates, cups, a tablecloth and napkins. You can add the teams' colors last-minute with streamers, balloons and other decor. Some great places to find Super Bowl party supplies:
Amazon.com – look for individual team party ware as well – heck, think of anything related to Super Bowl and you'll likely find it!
Celebrate Express – Specializes in discount party packs. They also carry party packages for each NFL team.
Shindigz – Family-owner/operator in Indiana since 1926 – specializes in spectacular high school shindigs, so they know a thing or two about football!
Basic NFL football choices will work for your Super Bowl party, too. Football-emblazoned plates, balloons and perhaps a real pigskin or two on the party table will get guests in the mood for the game.


Good Eats and Tasty Treats: Party Food
We all know the most important part of a Super Bowl party is the food (and beverages). We feel that's the key to any good party, but especially this one. The Super Bowl is taking place at Lucas Oil Stadium in Indianapolis, IN. We bet you didn't know that Indy has its own fun food traditions, did you? Put yourself in the middle of the action by bringing some Hoosier treats to your party table. Here are some ideas.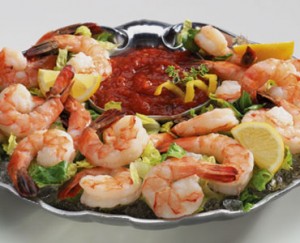 Shrimp cocktails. What? Isn't Indiana a landlocked state? Yes, but steps away from Lucas Oil Stadium is the legendary restaurant St. Elmo's. You'd better believe that you won't be able to get in if you're in Indy for the big game, but you can re-create their most famous dish at home. You need the biggest shrimp you can find (JUMBO jumbo shrimp). Serve this in a metal bowl that's resting on ice. Messily slice some lemon quarters. Then, top with the spiciest, most horseradish-laden cocktail sauce you can find. In fact, grab a bottle of horseradish and a bottle of cocktail sauce and mix them together. If you're not breathing fire after you eat the sauce, it isn't hot enough. The Monday Night Football commentators always eat at St. Elmo's, so don't leave out this authentic tradition.
Finger foods. Make your party foods grabbable and as non-messy as possible — things may get heated during portions of the game, and spills are inevitable. Try pigs-in-a-blanket, marinated Buffalo wings, crudites (raw vegetables with dip) and a huge plate of cheese and crackers.
Mini pork tenderloin sandwiches. Traditionally, breaded and fried pork tenderloin sandwiches include a breaded tenderloin that is at least three times as large as the bun. To add this Indianapolis tradition to your party table, instead of super-sizing it for the Super Bowl, shrink it to finger food. Follow these instructions for making the breaded tenderloin, but cut up the tenderloins and serve them on the small Hawaiian rolls for buns.
Fruit with yogurt dip. Not everyone wants grease. Here's a yummy recipe.
Peanut butter buckeyes. Pure joy wrapped up in a poppable treat! Check out this recipe.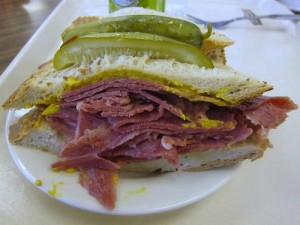 Shapiro's Corned Beef sandwich, mmmm – by
Seriousseats.com
Mini Ruben Sandwiches and Half-Sour Pickles: Another popular downtown Indianapolis restaurant is the Kosher deli Shapiro's. Their most popular sandwich is corned beef–either as a ruben or on rye bread with mustard. Make your own mini-rubens with party rye, corned beef, sauerkraut, and thousand island dressing. Put out a bowl of half-sour pickles to complete the feast. If you have a Whole Foods near you, Bubbie's pickles are the best choice. They're the most easily-found kosher pickles outside of NYC.
Blue corn or tortilla chips with dip. Try these great dip recipes:
Hot Cheese Dip
No party is complete without this artery-clogging treat. Made even more ridiculous by its number one ingredient: Velveeta!
Microwave 1 giant brick of Velveeta with 2 cups of your salsa of choice. Keep warm in the crock pot and serve with tortilla chips.
Spinach Dip
We honestly have to recommend going to Costco and buying their spinach dip, because it is sooooo good. But, if you want to make it yourself, mix 1 block of frozen spinach, thawed and drained, with 1/2 cup of fresh grated parmesean cheese, 1 cup of sour cream, 1 block of cream cheese, and 3 cloves of garlic, chopped. Bake until bubbly. Serve with tortilla chips or crusty croutons.
Seven Layer Dip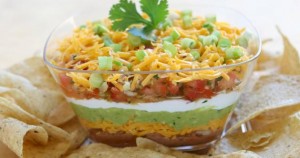 On a large platter, spread one can of seasoned refried beans. On top, spread 2 cups of guacamole. (Make your own by peeling and mashing four avocados, stirring in one finely chopped onion, two squeezes of lime juice, 1/4 cup sour cream, three chopped garlic cloves, and one chopped tomato.) Mix one carton of sour cream (14 oz) with one packet of taco seasoning and layer on top. Next, sprinkle shredded cheddar cheese on top. Add a layer of olives, topped with a layer of chopped tomatoes, and finished with chopped green onions. Yum!

Beverages: Your Party Must-Haves
Beer. Cervesa is a must for any Super Bowl party! Good beer bets are one domestic and one import. Miller or Yuengling, and Corona or Red Stripe are all good choices.
Margaritas. Everyone loves margaritas. End of story. Plan for frozen and "on the rocks," so stock plenty of ice and salt.
Soda or punch. For guest who prefer not to indulge, have some non-alcohol drinks available. Indiana consumes more strawberry pop per capita than any other local, so be sure to have some Big Red soda for the table.
Pre-Game Entertainment
While you're milling around, waiting for the game to start, incorporate some local Indy flair into pre-game entertainment. You can also incorporate some of the scheduled activities for the "Super Bowl Village" in your party plan. Here are some ideas to get the party started.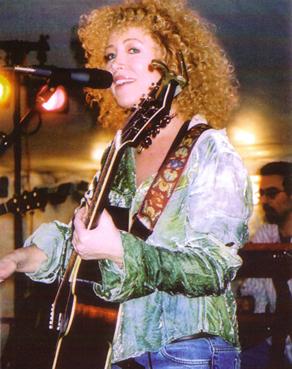 Tailgate contest: Sure you're not tailgating outside in a parking lot, but invite your friends to bring over an interesting "mini-gate." Invite them to bring balloons, decorations, or food from the competing teams. TV trays make great mini tailgate staging areas.
Halftime ahead of time: Madonna is scheduled to be the halftime entertainment at Super Bowl XLVI. Get your party started early with Madonna tunes-new and old. Nobody can stay in their seats when the Material Girl is on the stereo.
Superbowl Village bands at home: In addition to enjoying pre-game entertainment from Madge, add some tunes from the other bands playing over Super Bowl weekend. Enjoy hot local talent like Jennie DeVoe, who is opening for Patti Labelle or national stars like LMFAO, Dierks Bentley, and O.A.R.
Game Time Fun for Your Guests
Actually watching the Super Bowl is sometimes superfluous to a Super Bowl party, but there will be guests who want to watch it, or watch the commercials. Make sure the TV is position in an area where at least half of your attendees can comfortably watch.
If you have serious game watchers, but not serious furniture options, ask people to bring a couch cushion to sit on. This is, after all, a rather informal occasion. If possible, have two TVs running, for optimum viewing choice.
The most obvious Super Bowl game is to have a pool (placing bets on which team will win and on the ending score). Let $1 be a bet, and the winner takes home the pot.
For fun, and so nobody can "sneakily switch sides" halfway through the game, get cozies the same color of the teams and distribute before the start. Then you'll know who to razz and who to cheer when points are scored.
These great ideas are the perfect kickoff to an awesome Super Bowl party. Also have fun items available, like plastic whistles, penalty flags so your guests can "make the call," and pom-poms. Super!