A Valentine's Day Dress Up Tea Party
I've heard of Valentine's Day parties, where kids exchange cards and little gifts like heart-shaped cookies and candies in the class. But how about a dress-up party? Kids certainly need no excuse to put on fancy gowns or costumes, and if you're hosting a small party on February 14th (or the closest Sunday), consider a cute twist on the classic princess tea party – one where you invite Cupid to your table instead! This is a great party for little princesses and fairies, and if you live further north, it'll be a cheerful, warm afternoon out of the cold winter blues.
For this party, send invitations to parents explaining the concept – a fairytale friendship party. Invite them to dress in last year's Halloween costume (if it still fits!), or suggest a theme. Here's a couple ideas:
Anything with red and pink, or something with hearts (Cupid fairy, lady bug, or a fancy red dress)
A princess party (Gowns, tiaras, wands)
A garden party (Lady bugs, bees, butterflies)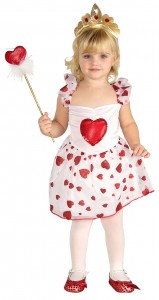 Check out a couple sites for costume and fancy dress ideas:
Buycostumes.com
Costumecraze.com
World Wide Fancy Dress Online
If you have a tickle trunk, you can also simply have your little guests dress up once they arrive at your house.
Decor and Party Ideas
Before your guests arrive, have your child help you decorate the house with paper hearts, Cupid silhouettes, flowers and lace. If there is a certain theme, add additional decor. For instance, if it's a Valentine's Day princess party, add tiaras among the hearts and Cupids. If it's a garden party, add more varieties of flowers.
Once your little guests have arrived, decked out in their very best, you're ready for your tea party, but with a Valentine's theme – heart-shaped strawberry jam sandwiches and cookies, strawberries dipped in chocolate, princess wands made of heart-shaped cheese (these are simply breadsticks with cheese on the ends, "pasted on" using strawberrry cream cheese. They can even make this themselves as an activity. Check out this tea party where the children are encouraged to make their own snacks!)
For tea, try strawberry or another type of berry tea so it will be red. You can also try herbal red tea (South African rooibos tea), which, as you may have guessed, is red in color! This tea has no caffeine, and is very popular in Africa – babies are often fed it for health benefits and to reduce colic.
For kids who haven't yet acquired the taste for tea, you can try iced rooibos tea, fruit cocktail or cherry Kool-aid.
After tea and some activities, don't forget gift bags filled with heart candies, red pencils and heart stickers. You can also wrap up left-overs for them to take home.