Magic Theme Birthday Party Ideas
Abracadabra and alakazam! (And, err, expecto patronum!) We didn't just pull these fabulous magic theme birthday party ideas out of a hat. Our ideas for food, decor, goody bags and tips on hiring a magician will blow your guests away and make them think you really can do magic!
Here's how to enchant guests and put smiles on every face at the party.
Magic Theme Party Invitations
There are so many easy and magical ways to spruce up your party invitations. Throw a little confetti inside each envelope. Put a glittery gold or silver star-shaped sticker inside each invite. Or seal the back of each envelope with a gold sticker star or moon.
Party Invitation Idea #1: Magic Hat
Cut a magician's hat shape out of black cardstock. Use it as a template to cut another out of a second piece of cardstock. Glue or tape together the bottom and sides, leaving the top open. Now cut a rabbit shape out of white cardstock. Make sure it's just tall enough that the ears stick out of the top when placed inside the hat. Write the party information on the rabbit. Invitees will "pull a rabbit out of a hat" to receive their invites.
Party Invitation Idea #2: The Winning Card
Find images of face cards — Queens, Kings and Jacks — and print them randomly. Make sure each card is large enough for you to write or print the party information on (have this info appear on the back of each "card"). Mail one card to each guest.
A Magical Decorative Atmosphere
This theme is so much fun because it allows you to really dress up the party area (there's no such thing as "too glitzy" when it comes to a magic-theme party!). So do it up. Here are some fab decor ideas.
Color Your Party Magical. Colors for a magic theme party include red and black, for a magician's cape; deep navy blue for mystery; and gold (or yellow) and silver for stars and moons.
Put On the Glitz. Go crazy with streamers, confetti and balloons. Follow the color ideas above for these decorations. And be sure to hang up a glittery banner announcing that it's your child's special day.
Set a Cool Table. Be awesome with magic-themed paper plates, cups and napkins. Use butcher paper to cover the party table and let your child help you draw oversize playing cards in the center or around the edges as a border. Or buy a pack of actual playing cards and tape individual cards to a paper (disposable) tablecloth.
"Deck" the Walls. (Card deck, that is!) Using removable, non-damaging double-sided tape, draw or print out images of playing cards, rabbits, old-time magician hats, magic wands, stars and moons and hang them on the walls around the party area. You can also buy magic-themed wall decals. Fantasy magic images — such as wizards or Harry Potter theme imagery — make great decor too.

Food, Games and Activities
Hire a Magician
It's a magic-theme party…so how can you not hire a magician? Kids will be enthralled when your pro magic man or woman shows up to deliver a real magic show. Hints: When hiring a party magician, always get references (three, if possible, and all within the past year). Make sure you call and speak to your reference contacts personally. Ask whether the magician was neat and clean, arrived on time, was good with children and whether the rate quoted on the phone was the same as the final rate, with no upcharges.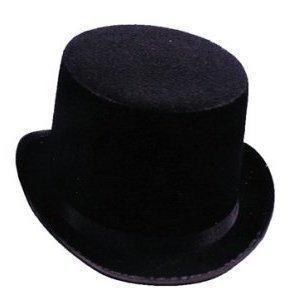 Have your children put on a magic show. If possible, when hiring a magician ask for someone who's willing to teach a simple trick or two to the party guests. Then have guests put on their own "show."
Click here to find magicians for hire in your area
Top Hats
Pick up several top hats
at your local dollar store or online at Amazon. Turn them upside-down on top of the party table, line with aluminum foil and fill with party snacks.
Make an oversized top hat out of cardboard or buy one at the dollar store. Turn it upside down and place it on the floor. Have guests stand a short distance away and take turns trying to flip playing cards into the hat.
Games
Set up a pinata, line kids up and let them go for it blindfolded, one guest at a time. The candy and toys that spill out can double as take home favors for the guests' goody bags/treat bags.
Make a scavenger hunt out of the words "magic" and "trick". Divide guests into two teams; have clues leading to scraps of paper with one letter written on each. The first team to find their complete word wins the bigger prize; the other team receives smaller prizes.
Magical Drinks and Foods
Serve "magical"-colored drinks using blue or green food coloring, plus soda or seltzer for fizz. (Add to juice for a deceptively healthy party drink!)
Have finger foods available so guests can grab-and-go. Mini pizza slices or pizza rolls, pigs-in-a-blanket, chips and popcorn are all great ideas.

Grown-Ups Love Magic, Too
Any of the above ideas can easily be "advanced" to accommodate a party for adults. Host your magic party in honor of a charity or cause that's important to you. Or have a magic-theme ball for New Year's Eve and serve whimsical drinks, including champagne, as well as dainty hors d'ouvres.
Magic is a great theme for a child's or adult's Halloween party, too. Keep this idea in mind to add a little atmosphere to any party, any time of year.