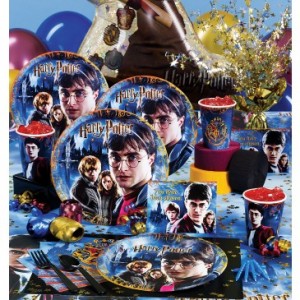 Harry Potter Party Supplies, available at
Birthday Express
You don't have to go to Hogwart's School to find out how to put together a great Harry Potter and the Deathly Hallows party (or your favorite Harry Potter book or movie). With the final movie out, it's time to honor everybody's favorite wizard — both for kids and adults, too! Here's all the magic ingredients you need, such as ideas for great invitations, food, decorations, gift bags and games.
Your party guests will think you waved a magic wand when they step into your Harry Potter party, but all it really takes is a little ingenuity and a few fab ideas. Here are our favorites for this uber-popular party theme. We've got all the magic ingredients you need…including ideas for great invitations, food, decorations, gift bags and games.
Harry Potter Party Invitations
Sure, you can buy invitations for your Harry Potter party. Or you can pull some magic out of your sleeve and get creative! Try this fun party invitations craft (let your child help if it's her party):
Buy light brown/parchment style paper, or make your own by immersing plain white copier paper in cooled tea, then allowing to dry (it will get just slightly crinkly, which is perfect for this invitation).
Now either write the party information on each piece of paper, or type something up on a text document and print off copies. Yes, there is such a thing as a "Harry Potter" font — Google for a whole host of varieties on this theme, then choose the one your child likes best. You can also copy and paste Hogwart's School of Witchcraft and Wizardry or Ministry of Magic letterhead; place this at the top of the document for authenticity and a touch of fun.
As for the invitation wording, make it fun and Harry Potter-esque. Here's an example:
Your presence is hereby requested at the Ministry of Magic (or: at Hogwart's School for Witchcraft and Wizardry) for an accelerated compendium on Fun, Frolic, Consumption of Colorful Pastries and General Mayhem. Classes commence promptly at (time) in the (your address) Hall."
If you'd like guests to dress up, make sure you list this information on the invitation as well. Now roll up each invitation to look like a scroll and tie with ribbon. Or if you'll be mailing the invites, go ahead and fold them; this too will give an authentic, antique-paper effect.
Movie Invitations
In the past couple years, I've found out that there's a whole home-based industry of designing party invitations in the form of slick-looking, personalized movie tickets.
. Harry Potter's latest movie is no exception – you can order them on Ebay.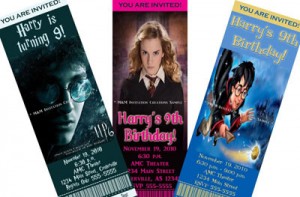 Top Ebay seller "
Peanut Closet
" specializes in personalized birthday invitations
Make It a Costume Party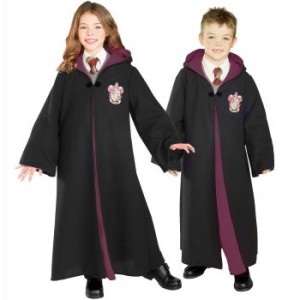 Invite guests to dress as HP himself or as a favorite character from the series. Suggestions may include Luna Lovegood, Hermione, Ron Weasley, Neville Longbottom, Professor Dumbledore, Voldemort, Snape, Sirius Black or even Harry's sterotypical and oh so clueless aunt and uncle.
Hold a costume contest with silly prizes, like a pair of Harry Potter glasses for "most authentic" or a toy magic wand for "most creative."

Decorations and Food
Set up a natural-straw broomstick in one corner of the entryway; keep the entryway semi-dark for a spooky, old-fashioned effect and add a lantern or two to light the way (for safety, use flameless candles).
Around the party area, place "potions" and various jars (easy to make out of cleaned food jars and some creative printed-and-glued labels), plastic frogs, centipedes or snakes, a few cobwebs and some old-looking books (make faux covers out of brown paper bags by wrinkling them, writing fanciful names across the front and folding them over hardcover books you already own). Here's a Halloween tutorial on doing this, for a witch's pantry.
Use Kool-Aid or other food colorings/drink mixes and/or flavored sodas to create spookily-colored "potions." Have children sample these for their party drinks. They'll be squicked-out — but curious! — to try "extract of thymus," "left leg-shrinking potion," "deadly nightshade" or "dragon snot," but will be pleasantly surprised to find they're actually drinking lime punch, lemonade or strawberry soda.
Set up a Hogsmead Candy Shoppe. Include gross goodies such as gummy spiders, worms and other creepy crawlies. You can also offer peppermint and other candy sticks (for magic wands), fanciful-colored candies such as swirl pops or rock candy (for magic crystals).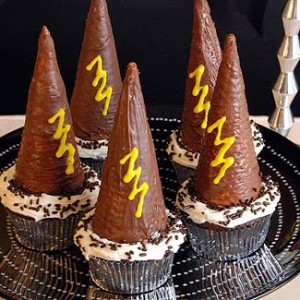 Image courtesy of
iVillage
Whip up some fun Harry Potter cupcakes. You'll need: cupcake mix (or your own favorite recipe ingredients); edible ice cream cones with pointed bottoms; chocolate frosting; and sprinkles or other decorations, if desired. To make: Bake cupcakes and cool completely. While these are cooling, frost enough ice cream cones so there will be one for each cupcake; sprinkle yellow or gold colored candies on these if you wish. Now frost the cupcakes. Place one cone each, upside-down, onto the cupcakes. When finished, these make adorable wizard hats that guests will love to gobble up. (Also try out Harry Potter Horcrux cupcakes)
Games
If this is an adult party, gather some great music and clear a space for dancing! Incidentally, kids will love this type of activity too, especially if you incorporate an element of play into the game, such as stopping the music suddenly and having guests freeze in place. Other HP-theme party activities include:
Whoooo is Hedwig? Appoint one guest to play Hedwig and one to play Harry Potter. Blindfold "Harry" and have all the party guests, including "Hedwig," stand around him  or her at a distance. The guests will now start making funny noises — tweets, chirps, barks, etc. — but Hedwig will hoot like an owl. Harry must then listen and feel around for Hedwig. When he locates and touches him, Hedwig becomes the next Harry, and so on. (It's similar to Marco Polo.)
Make wizard hats with this cute, easy tutorial — even very young party guests can get in on this activity.
Play Harry Potter Trivia. Did the quote you're about to read to guests come from Goblet of Fire? Sorcerer's Stone? Chamber of Secrets? The Half-Blood Prince? Choose somewhat obvious questions for youngsters, but if your guests are grownups, all bets are off — be challenging and try to stump even the most hardcore HP fans!

Goody Bags
Send guests home with an HP package they'll love. For grown-ups, send home candies, gift certificates or other goodies. For children, a play wand, Harry Potter glasses and other gifts will be welcomed if you stuff them in toy Sorting Hats — buy these or make your own out of brown paper that you can tape into a cone shape. These gift bags are the perfect way to "top off" a party that's pure magic.