Magic Themed Birthday Party
You don't need to be a magician to throw a fantastic magic themed birthday party.  Magic is one of the easiest and most fun party themes for children. Here's how you can make your child's next birthday party a magical experience.
If your son or daughter loves watching magicians or is pursuing magic as a hobby you can easily create a theme party all about magic. Start by ordering some magic themed birthday invitations with pictures of bunny rabbits jumping out of top hats, magic wands and playing cards.  Keep your invitation list manageable.  The younger the birthday child is the fewer guests you should invite.  What is fun and exciting to an older child may be frightening to little one, so try to only invite kids who are close in age to the birthday child.
Magical Themed Décor & Food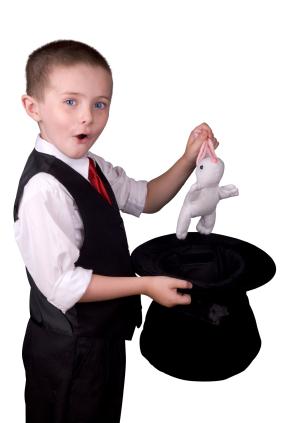 Decorate the party room with magic themed banners, table cloths, cups and plates and other party décor that ties in with magic and magicians. Playing cards can be scattered about tabletops or taped onto walls.  Get some fishing line and you can create the illusion that things are levitating around the room by tying them to the ceiling.  Keep the light in the room dark in order to hide the threads. Print off some vintage magic posters and place them in stylish frames.  Black lighting will give any room a magical feeling.
If making a birthday cake in the shape of a top hat is too much work for you, make bunny rabbit cupcakes instead.  Simply add some bunny ears to vanilla frosted cupcakes for quick and easy way to carry the theme across. Get some inexpensive plastic top hats and fill them with goody bag items like candy, decks of cards, magic wands or toy magic tricks.
Magic Games & Costumes
You can customize many traditional birthday party games and activities into magical fun with just a little bit of imagination.  Play "Pin the Tail on the Bunny," with a simple drawing of the bunny rabbit on a piece of poster paper and an assortment of cotton balls and double stick tape. Instead of an egg hunt, have the kids try to find the most playing cards which you've hidden around the house. Give a special prize to the child that finds the Joker.
If your child is daring enough, he or she can put on a magic show for their friends.  There are a number of quality magic kits available online but a local magic shop will be able to help you find tricks that are most appropriate for your child's skill level.
Another way to make your party more magical is to invite the children to come in a magic themed costume. Invite them to dress up like wizards, witches, genies, magicians or fairies.  Be sure to have some extra costume pieces available at the party in case one of the children forgets to come dressed up.
Hiring a Magician
The perfect way to end a magic themed party is with a professional magic show.  There are a number of ways to find a good magician for a children's party but the best way is by referral.  Ask other parents to recommend a good magician.
If you are hiring a magician who has not been referred by a friend make sure you ask for references.  You want to make sure that the performer you hire has plenty of experience entertaining for children. A good magician for children will do lots of colorful, visual magic that is age appropriate.  Many professional magicians will produce live rabbits and doves, which never fails to delight the children. Have fun!