The Medieval and Renaissance period gave us some of our most romantic stories, fairytales and folk tales. They were full of magic, giants, fairies, dragons, knights and maidens.
You can incorporate so many different elements into this type of theme that it makes the perfect setting for a wedding celebration, mid-summer luau or any other romantic occasion. So if you want to recapture a bit of that old romance, this is the theme to go with.
Fairies and Woods and Amore
When you think of the medieval times, you likely think of beautiful scenery. You want to do your best to recapture that, so if you are able to have the party in an appropriate outdoor setting that works perfectly.
If you can have it outdoors consider going with simple lighting such as candle light or perhaps tiki torches to bring about the elegant ambiance. You want the scene to really feel enchanted so be sure to encourage the guests to come dressed up as fairies or worriers to fit in with the theme. Then sprinkle a bit of "pixie dust" everywhere for that "once upon a time" feel.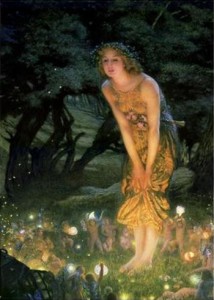 Minimal light, simple foods from yesteryear such as roasted meat and potatoes, and an outdoor setting (even if it must be recreated indoors) are what will help to set the scene.
Go for Mystical Love
If there is one word that captures the theme of romantic tales, it has to be mystical. Most fairytales having to do with love have some form of mystical basis, such as a mystical transformation (The Little Mermaid, Beauty and the Beast), and enchantment (Sleeping Beauty).  Therefore, you want people to feel this enchantement as they walk in the door. This can be accomplished in a variety of ways:
Low lighting, or candles (go for electronic LED candles. No mess, no fuss, no safety hazards) – try multi-colored greens, reds and oranges to achieve a magical effect. Place a lot in slightly hidden places on the floor, to cast light upwards.
Shimmery fabric loosely draped from the ceilings to give the look of a fairy lair (another example involves a girl's garden party)
Put up simple pictures of the romantic couple throughout the venue, which will blend perfectly throughout the beautiful dimly lit setting. Think of your favorite Shakespeare play and recapture that era and feeling, as they are all based on some story of love.
Create a Romeo and Juliet type of setting where guests are taken back in time through the ambiance but can celebrate a beautiful love story. Consider giving guests a perfect favor to take with them such as a candle with your special information on it, or perhaps a pewter leaf to remember this special day by.