Garden Party Fairy Theme for Girls
"Plant" a garden party fairy theme for your favorite girl!  Little girls love to dress up and play pretend, and if wings and a magic wand are involved, all the better.  We've found perfect party supplies to get you started.  But, that's just the beginning.  Once you have your paper goods and your theme, you need to then plan the perfect garden fairy party.  Here's how to do it!
Garden Fairy Invitations
If you wish to make your own, let your child participate in the decorations. Take cardstock of any "fairy" color (light green, pink, light blue, purple) and add a fairy poem, such as this:
You are invited to a garden fairy ball,
So come in your costume fairy best!
You'd think it would take place in a deep wood,
But no, it's right here in your neighborhood!
At (child's name) house,
(Location, date, time from – time until)
Remind parents to have their children dress in a fairy costume, but have some extra fairy costumes handy in case somebody forgets to dress up. Have your child then decorate around the invite with fairy stickers, little pieces of flowers, twigs and sparkles. Try some fairy clipart too, and add a small packet of seeds with every invitation.
Also, upon arrival, everybody is to be given a fairy name. Use a fairy name generator to come up with cute names.
Color Scheme and Fairy Decor
When you think of gardens and little fairies, what colors come to mind? Well, likely green and pink, and that's what we're going to use! If you choose the garden fairy party pack, it'll come with balloons, ribbons and crepe paper.  You can pump up the decor with these extra touches:
Sparkly windsocks around the garden.  If there's no wind, just hide a fan to mysteriously blow them around.
Wind chimes: the tinkly, higher pitched chimes.  Tell the girls it's "Fairy music!"
For real fun and excitement, rent a bubble machine to randomly float bubbles out into the garden.
Fairies like flowers, so if your garden doesn't have lots of plants, you might want to plant some large pots with colorful flowers and set them around the party area.
Fairy lair:  create a special "fairy lair" around the table where everyone will eat.  Use tulle to attach to trees or poles, with ribbons at the corners, to create an enchanted eating place.  Twinkly lights add an extra special touch.
Of course, your perfect garden day may be ruined with rain! Be prepared for this, and designate a room in the house as a "backup fairy garden" – the downstairs rec room is a great place for this. If you have potted indoor and outdoor plants, you can arrange them as decor (keep outdoor and indoor plants separated, in case of outside insects.)
Garden Fairy Craft Fun
A party is only a party with fun and games!  A garden fairy party gives girls lots of opportunities for fun. Try one or several of these craft activities, and they can all take them home as part of their party favor: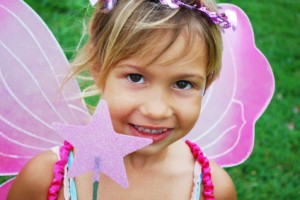 Decorate some Fairy Wings:
Pre-assemble some fairy wings from poster-board and twine, or using pipe cleaners to form the wing shape with tulle in between for the wings.  Let the girls use spray on glitter, feathers, and more to decorate them.  When every fairy is properly attired, move on to the next activity, which is:
Fairy Crown of Flowers:
Weave little wreaths from grapevine before the girls come to the party.  Then let them stick small stems of flowers (real or artificial), into the wreath.  Tie some ribbons at the back, and you have an instant fairy crown.  (With artificial flowers, be careful to remove the wires before giving them to the girls.)
Customize a Fairy Wand:
Make wands from pencils that the girls can keep (un-sharpened pencils), and a star on top.  Give them glitter and feathers, and glue, and markers, and all sort of supplies to decorate.  Each garden fairy will have her own magic wand!
Make a Fairy House:
Give each girl a shoebox, and let her go to town decorating a fairy lair!  One of the party favors can be a garden fairy to live in the lair.
Play some Party Games
Once all of the fairies are properly outfitted, it is time to play games!
Musical Fairy Flying: A spin-off of musical chairs, have the fairies "fly" around in a circle and land on a "toadstool" (decorate the back of each chair with a toadstool).  Each round, remove a chair. The last fairy that lands on a toadstool wins!
Find the Fairies: Before the girls come over for the party, hide some fairy stickers around the garden (or the room, if it's been rained out), and give the girls "fairy dust" bags to put the stickers in as they find them.  Simply take several sheets of stickers and cut them up, so they still have their backing.
Garden Fairy Shadow Tag Start the music and have the fairies run around.  When the music stops, they freeze.  If one fairy is standing on another fairy's shadow, the fairy with the shadow is out.  The last fairy left wins!

Delectable Sweets for Sweet Garden Fairies
Food is always a fun part of the party.  Serve these sweet and savory snacks to your garden sprites.
Flower cupcakes:  just decorate cupcakes to look like flowers
Fairy punch:  fruit punch with a little bit of sprite mixed in for sparkle
Garden fairy bouquets:  make miniature bouquets of broccoli florets, served with a side of ranch
Fairy sandwiches:  Peanut butter and Jelly sandwiches cut out in shapes of butterflies
Plan ahead for fun activities and extra special touches, and your garden fairy party will be one to remember!